Being able to contain your dog's excitement and keep them (relatively!) in line outside the home is a must for responsible pet owners. As is pet insurance, of course. Leash or lead, call it what you will, the plethora of dog restraining aids can be confusing for pet parents to choose from. Here's the definitive guide on dog leashes and leads, so you can pick the right one for you and your dog's needs.
Traditional leash
Also needs: a collar
The popular straight-up collar-fitting leash has some perks and some limitations.
Pros: Good for relaxed dogs, puppy training or first-time leashers.
Cons: No good for dogs who pull or are anxious and prone to frights and bolting.
TIP: If you have a long-haired hound, get an old-school leash that doesn't snag the fur. Wide-woven fabric ones aren't great.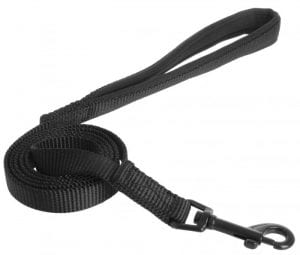 Hands-free lead
Also needs: a collar
This leash clips onto your waistband and onto your dog's collar, leaving your arms free to YMCA while you run.
Pros: Useful if your hands are full with dogs toys, poop bags, your mobile phone or keys.
Cons: If it's a set length, you can't shorten the leash, it might drag on the ground, or you might get tangled up in it . Look for curly cords to solve this.
TIP: Look for leads with an additional handle near the collar clip for close control of your dog.
LED/reflector night leash
Also needs: a collar (unless you get a harness version)
A bright-coloured, glow-in-the dark leash is great for night outings, dusk and dawn. That little extra light will help warn other runners and walkers where you and your dog are.
Pros: Helps prevent collisions in low or no light, and can help you find your hound if it ever goes astray at night.
Cons: Battery might die once you're out and about. Keep a spare battery and your phone on your person in this wearable pouch.
Find a reflective leash for your pooch here.
Retractable lead
Also needs: a collar
Pros: Good for dogs who come when called and busybody dogs whose distance from you ranges widely.
Cons: Requires constant attention to not jerk or trip you, for example if your dog stops suddenly while running. Moreover, strong pullers can break the lock mechanism.
TIP: Pick a length to suit both you and your dog as some dogs like to wander further away than others.
Pick your favourite colour retractable lead here.
Slip leash
Does not need: a collar
Thread the lead through itself to make a collar-like loop. Once it's the right size, secure it with the stopper.
Pros: Good for dogs who only need to be corrected once in a while.
Cons: Does not offer the other benefits like retracting, bungee, etc.
TIP: Pull the slip leash sideways to correct a dog in front of or behind you, rather than tugging backwards or forwards. This gives a slightly gentler correction that doesn't jar the dog.
Get a slip leash for your relaxed doggo today.
Traffic leash
Also needs: a collar
Short, and to the point, this keeps dogs right by your side and in your hand to minimise sudden leaps and bolting off.
Pros: Helpful in developed urban areas for dogs who startle easily and then run away suddenly.
Cons: Does not allow longer-range walking or running.
Grab a stylish dog's traffic leash here.
Harness/front clip
Does not need: a collar
Also needs: a leash! While not technically a leash or a lead, the harness is worth mentioning here because it offers a whole other class of dog restraint.
A harness sits securely around the dog's torso and neck and may offer a variety of places to attach the leash (in front at throat, on top above spine, etc.).
Pros: Great for controlling dogs who pull hard and heavily as the pressure transfers to the torso. It's also great for small dogs who might need a lift once in a while, e.g. hiking up steep slopes. For the little doggles, pick a harness with a handle on top and clips on top and in front.
Cons: Can be heavy, and hot and sweaty in warmer months. This can cause rashes. It could also weigh a dog down when it's wet and cause chaffing in rainy weather or at the beach.
TIP: Fit the harness to the body so that it does not move around or make the skin or fur bulge. You might have to feel for this with longer-haired dogs where you can't necessarily see this; run your finger off the harness over the skin. If it's a straight, smooth line, you're good, if the skin bulges, the harness is too tight. If your finger drops down off the harness to the skin the harness may be too loose.
Find a harness that suits your doggo here.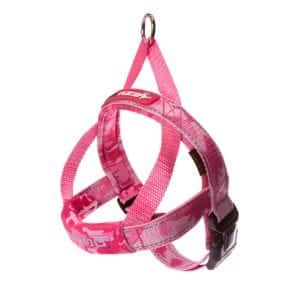 For travelling – Seatbelt lead
Also needs: a collar
We all know most dogs love to ride in the car. They hear the car keys and they are off to the front door waiting. However, we must take care with our pets in cars, and restraining them is the best way to keep them from becoming a dangerous missile. A seatbelt lead will help protect their life as well as yours.
Pros: Keeps dog safe from jumping around the car or jumping out the window. It also keeps the driver safe as there's less chance of being distracted.
Cons: May take some getting used to for dogs who are used to having free rein in the car.
Get you doggy car ready with a seat belt attachment here.
Now you've read the lowdown on dog leashes, hopefully you feel more confident about buying what's best for you and your dog. There's a wide variety of options in the NZ market – it's easy to find what you need to keep your dog's tail happily wagging. Any more tips or suggestions? Let us know below.
And don't forget to get your pup some dog insurance, in case he or she runs off and has an accident while you're out and about…