There's no denying the pandemic has ruined travel plans for thousands of Australians, if not millions. Especially those planning to travel overseas. For those of us who love to travel or with family overseas, we know how tough it is to be told you can't jet set across the globe 'for the foreseeable future'. But it's not all bad news because, after a few months of lockdown, most of the Australian tourism industry is back open for business.
And even if restrictions are re-imposed, as in Victoria, it's heartening to know it won't always be this way.
Read on to find out how COVID-19 has impacted travel in our country, and do a bit of armchair travelling with us in prep for your next Aussie holiday. It's so 2020!
Australian Tourism Needs You
It seems like a lifetime ago, but the recent devastating bushfire season not only ravaged communities, it knocked the wind out of the Australian tourism industry. Then COVID struck and, without international tourists (and a huge reduction in domestic travellers), the industry is on its knees.
Did you know in the 2018-19 financial year, tourists spent $122 billion here? And tourism directly employs 666,000 people. That's 5% of Australia's workforce.
Communities across Australia rely on tourists to survive and are struggling without them. Now, with restrictions easing and state borders slowing re-opening, those of us who are able can help ease the pain by using our travel dollars within Australia.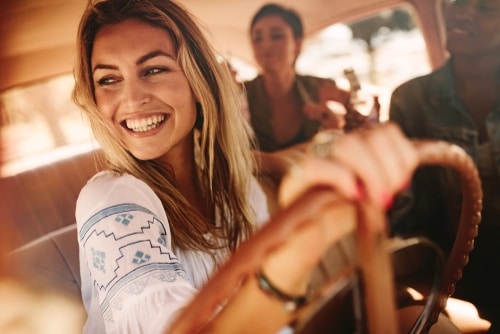 Your Travel Plans
A PD Insurance survey recently asked car insurance policy holders what holidays look like now. 50% said they'd rather travel in Australia for the time being. Of those respondents, 23% will head out on a road trip before next April.
Lucky for us we live in one of the most geographically diverse countries in the world.
Beaches. Deserts. Rainforests.
We've got them all.
Big sprawling cities and small country towns.
Yep, we've got those too.
Animals you'll not find anywhere else on the planet (not all of them are deadly).
Tick!
And while flying to the destination of your choice is a wonderful way to begin a holiday, the team at PD HQ are quite partial to a road trip. Well, we do love cars. And those daggy 80's songs aren't gonna belt out themselves, are they?
So, what're you waiting for?
The Benefits of Tourism in Australia
A road trip is perhaps one of the easiest and most COVID safe ways to take a holiday while also injecting much needed money into the local economy.
Just a few benefits of a holiday on the road are:
You can get out of the house, local restrictions allowing of course. A road trip could be the ticket to keeping your sanity in these strange times.
You can easily travel alone, with family or with friends. Or a combination of all three.
You already have your transport. Or, depending on where you want to go and the type of vehicle you'll need, you can hire a vehicle and/or caravan as your roving accommodation.
You're in control of your holiday destinations – no being stranded in the middle of the ocean, turned away from COIVD-concerned ports.
You can choose from a quick weekend away or take a leisurely wheely-wander over weeks or even months.
You will support local business. Stop for coffee or lunch at the small café. Book a hotel or Airbnb. Buy a trinket or handmade gift. Every dollar helps a small business stay open.
The Great Australian Road Trip
With border restrictions still in place for some, many great Australian road trips won't be possible just yet. But if you're ready to start bookmarking them, here are a couple you might love.
The Big Lap – around Aus
Got plenty of time on your hands? Why not do The Big Lap? It follows Highway One, links seven capital cities and covers some 15,000 kms. You'll be blown away by how quickly the Aussie landscape changes.
The Coral Coast – WA
Or travel the Coral Coast and go from Perth to Broome. Pristine beaches, spectacular coastal adventures and wonderful wildlife await you in this amazing region north of Perth.
Now, with the border between NSW and Queensland having re-opened, let's have a look at one of the road trips you can take in Eastern Australia.
Pacific Coast – NSW & QLD
Okay so maybe we're a teeny tiny bit biased because PD HQ is in Newcastle and the fabulous Pacific Coast drive passes right through Newcastle and Port Stephens. But we think it's one of the best areas of Australia.
Don't take our word for it – do it yourself…
At just shy of 900kms, the Pacific Coast drive will take you around five days from Sydney to Brisbane. Stops along the way include:
Australian Travel – "Post" COVID
Travel is unlikely to ever be the same as it once was. And with overseas travel off the agenda for now, there's never been a better time to explore this great big, gorgeous country of ours.
As long as you make sure you're following all health pre-cautions of course. Read our article on how to avoid COVID-19 when on the road.
As restrictions can change with little warning, we encourage you to check with the relevant authorities before making travel plans. And don't make them too far ahead.
Websites you can visit to seek the best and most current Australian travel advice include Smartraveller and the Australian Government Department of Health.
Travel Protection
However you decide to travel, and however you decide to get there, before you go, make sure you've sorted out your:
Travel insurance: for obvious reasons, though don't presume you'll be covered for COVID-related cancellations. Do your research.
Home building and contents insurance: for peace of mind while you're gone.
Comprehensive car insurance and/or bike insurance: to cover you if the worst happens while you're on the road – or while it's stored back at home.
Caravan and/or motorhome insurance: you don't want to be left out of pocket if something goes wrong.
Roadside assistance: for pesky breakdowns. Plus, you can't predict when a 'roo is going to jump out in front of you! Read what to do if you hit an animal while driving.
Pet insurance: Make sure you're covered if your furry BFF gets sick while you're away.
#PDTip Read your car insurance PDS carefully before you head off. Don't just assume you know what it says. For example, check to see if an additional excess applies when you're away from home for more than 60 consecutive days.
If you're on the hunt for insurance that meets your needs, we can help you get the cover that suits you. You could also take advantage of potential savings – like one for exclusive drivers.
Do the same check with your cat insurance or dog insurance plan. Make sure you understand what you are and aren't safeguarded against.