Do you have car storage ideas on your mind? For argument's sake, let's say no. You have other things on your mind. Like presenting your report to the bosses. And wondering if your kids' lunches are packed. Or what's for supper.
But let's admit it, all this car clutter is ruining the vibe. And frankly, it's used up all the thinking time since you dropped the kids at school. Also, what is that weird sticky thing on the accelerator…a banana peel…a yoghurt tub?
Car storage ideas for safer driving
A backseat full of squeaking children at various volumes can be distracting. So is a banana peel on your accelerator. Distractions are dangerous for driving. As a result, you should minimize distractions for a safer drive with these car storage ideas…
Built-in fridge
Many brilliant moms and dads pack a cooler box in the car boot to keep drinks cold. The snag? Firstly, the cooler is in your boot so it's hard to get to. Secondly, it can fall over.
The solution? Some car makers now design cars with built in refrigerators in the armrest. Therefore, you won't need to give your children juice – they can get an iced drink themselves! It's fun and it can have an incredibly calming effect on the drive to school.
Find out about models of cars that have built-in refrigerators and coolers.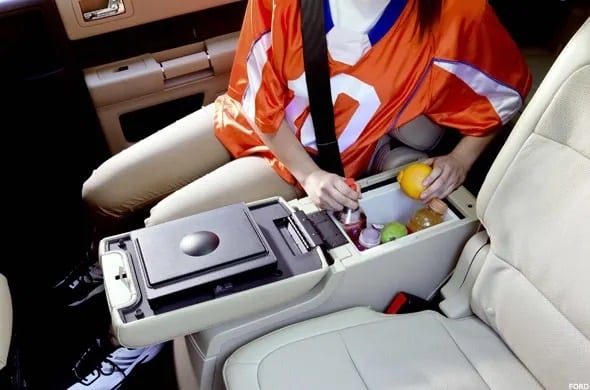 Use a remote control pocket as car storage
Kids these days often lead the busy lives of high-powered CEO's. For instance, young Oliver or Charlotte's day may conceivably comprise of school, Zoom meetings, sports practice, screen time 'researching my school project' and mealtimes.
As a result, daily homework sometimes gets forgotten. However, Ikea Hackers offers a work-in-the-car Flort turned into car organizer for kids. it's a remote-control pocket, it's super accessible and it doubles as a seat protector. You can store stationary, and other bits/bobs neatly. It looks nice. And it works well under kids' car seats, which means tiny tots and school goers will be occupied while you drive.
To sum it up, kids can finish up their homework on the way to school. Or they can simply have fun drawing and doodling (and shoosh) while you drive. If they don't get motion sickness, that is.
Going on a longer trip? Read our top 5 tips for surviving family road trips.
Apps for kids during car rides
While not strictly a storage idea, apps can help make the car ride and the school run smoother. Utilise driving-induced screen time with learning apps like ABCmouse.com, Labo Car Designer and Dr. Panda Toy Cars. Among many others…
ABCmouse.com
It's won the Mom's Choice Gold Award, Teachers' Choice Award and the Parents' Choice Award. ABCmouse.com uses storylines to make activities lifelike and engaging. For example, there is an interactive zoo, aquarium and farm.
Activities promote your child's understanding of science, maths, reading, art and social studies. There is also a map which tracks your progress through different activities and levels. The activities and videos are designed for two age brackets, either 2 – 8 years or 8 – 13 years.
Labo Car Designer
Labo Car Designer is a great car-themed app. Perfect for your child to enjoy a shared experience of navigating and understanding parts of cars. The app is designed for pre-schoolers to design and drive their own car. Kids can customise their cars from 10 colours and an array of stickers and realistic components.
The Labo world has four weather modes to choose from. In addition, there are 15 roadways to navigate and explore, each with its own obstacles to learn about. Children can choose from 25 templates or draw in a free play mode. The charming design of the app has a hand-drawn, almost tactile quality, great for young kids.
Dr. Panda Toy Cars
The Dr. Panda Toy Cars app is designed to promote a combination of play and problem solving. The app caters to kids up to eight years. This app is perfect for little ones who love seeing fire trucks and police cars go by. In the world of the app, these are just two of the eight different vehicles which your child can choose to drive.
The action-based activities are matched to your vehicle. For example, your little firefighter will put out a fire, while as a police officer they can help catch a baddie.
Coffee cup tissue dispenser
The coffee cup tissue dispenser gives you easy access to tissues AND it fits into your cup holder. Gone are those floating tissue boxes that are never at hand and end their car ride crumpled on the floor.
A website called Instructables offers step by step instructions on how to convert a used takeaway coffee cup. The person who posted the instructions even has a message for us: "This project is not necessarily about a coffee cup and some tissues. it's about the idea of re-usability, and the proficient wave of creativity that can help sustain frivolous usage of material."
This DIY car hack can also double as a wet wipe dispenser. Keep wipes from drying by only dispensing to your cup daily, and just what you'll need that day. We're sold. And it's free ????
For anyone whose cup holders are already full, check out this range of tissue holders that attach to your visor!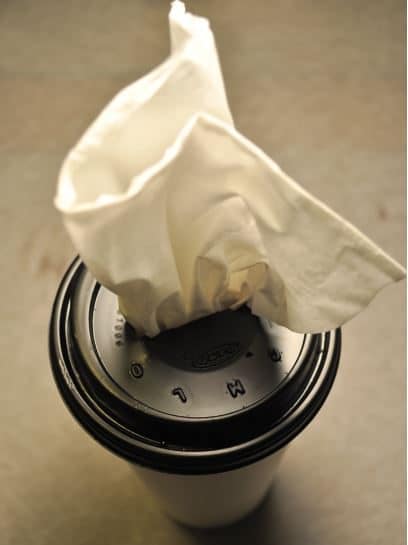 DIY yoghurt container storage for parents on the go
Speaking of free, DIY and recyclable, a 2kg yoghurt bucket is an all-round car storage solution (plus you get your probiotic bio-flora). Many of you will be nodding in knowing approval. The 2kg yoghurt bucket comes with a well fitted reusable lid and is fairly sturdy and waterproof.
Therefore, it's great for storing tiny toys with loose bits, hair elastic bands, snacks and wet swimming cozzies etc etc. That way they're not spread all over your car. You won't find yourself craning your neck under seats for that all-important toy at some arduous time of the day/night.
They can double as bins for all the rubbish kids (and adults) accumulate on a trip. And as vomit buckets for those inevitable road sick moments on car trips. Keep them locked into place so they don't become missiles with the following car storage solution…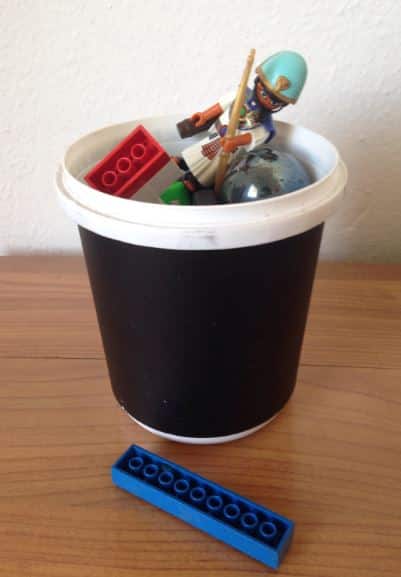 Car organiser
Car organisers come in all variants: collapsible, attachable, and pop-up.
The car boot organiser is waterproof and collapsible. Open it gives you 390 x 540 x 265mm of storage space. When you're not using it, it folds and fits right under the seats as a space saver. It has two handy compartments, one for your shopping, gym clothes, tools etc and one for your yoghurt buckets.
The cabin crew pop-up litter bag pops (like a pop-up tent) to a size of 31 cm. When you're not using it, it easily folds away and tucks into your door or under your seat. In addition, it comes with loops to attach to your headrest so your kids can reach it easily.
For all shape and size varietals, check out the a range of car organisers.
PPS: Read more of our car organising hacks to change your life.
Peace of mind and more
We've covered top to bottom ideas and price range for car storage ideas that make driving to school fun! Now that your kids are happy, let's talk about your car… Give your car the best comprehensive car insurance. It's the most affordable and all-inclusive type of policy. It covers damage to your car and damage to other people's car and property. It also includes numerous valuable extras like emergency repair cover, towing and more.
Protect your car, your peace of mind and your finances by giving yourself the gift of insurance.
Car storage ideas – over to you
We're super excited to share these great car storage ideas with you. However, we're actually more excited to hear your ideas in the comments.