Cats are creatures of comfort, so winter is the ultimate time to get cosy as the temperatures cool. Cat gifts are a great way to make these cooler days a bit more festive and show your feline how much you care.
Most cats have a favourite toy, and we've compiled a list of our favourite winter buys for you to peruse. From cosy dens made of wool to coveted catnip toys, here's the scoop for winter 2021:
The ultimate cat gifts this winter:
A quick note to add that these gifts are selected with winter comfort in mind. However, we've also made sure to choose ones that adapt well to summertime and anytime use. Because cats in Australia want to have fun every day of the year!
Feltcave wool cat cave bed (cosy cat gift)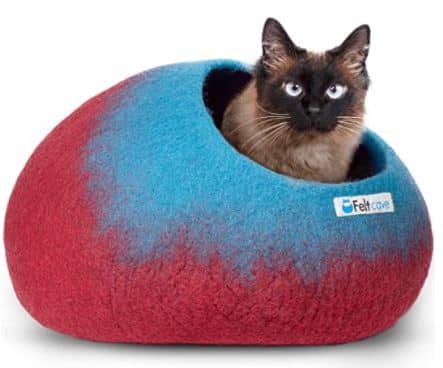 This is easily the ultimate in cat caves from looks, quality and cuteness – and judging from reviews, just ask cats who have one and they'll agree. It's too cute to see kitty's head sticking out of the dome shaped cave, looking like she's become a woolly tortoise. And to top it off, the cave is handmade by artisans in Nepal using 100% merino wool.
This is the ultimate winter den for mittens. Plus, she can squash it flat (it just pops up again afterwards) and lie on top on warmer days.
Plus:
Because it's wool, it repels dirt.
Easy to clean with a vacuum cleaner
Easy to deep clean with soap and warm water
Comes in nine colourways
30.5 cm height x 43 cm width
Buy it on Amazon
Costs $88.64
Cone scratcher (adaptable cat gift)
Some people can multi-task, and it seems so can some cat gifts. The cat cone scratcher is a three-in-one multitasker and can perform the function of scratcher, den and perch. At the same time!
Cone scratchers are great for winter as cat owners can pop a big fluffy blanket inside, which cats love during colder months. They won't overheat either given that the enclosed den is spacious. Then for summer, the cotton cushion is ideal for mittens to relax on.
See, not only does the cone scratcher multi-task, but just like the wool cat cave it can adapt to different seasons too!
The frame is made from Acacia wood which is wrapped with a durable carpet that can detach for cleaning. Inside the nesting area is the cushion that makes your kitty's bed-den hidey hole soft and cosy. Also check out the UFO cat food bowl from the same company.
Plus:
Long lasting materials and quality
Cushion cover comes off for machine wash
Carpet attaches with heavy duty velcro for easy removal and cleaning
Weighs about 7 kg so you can move it wherever you want easily
Height 111 cm, bottom diameter 45 cm in diameter, top diameter 30cm
Buy it on Wood for Cats
Costs $519.00* (a bit on the pricier end, however customers give sterling reviews!)
Llama organic catnip (playful cat gift)
There are so many catnip toys out there to choose from, but this winter we'd like to draw your attention to the one we think is the cutest. The llama cat toy is a) shaped like a llama, b) organic and c) filled with more than two tablespoons of certified organic catnip.
Make note the website says strong catnip. We're not sure if that's sort of the equivalent of saying strong coffee for humans. But if so, that can only mean good things. Get the inside story on your cat's pet loves with what does catnip do?
Plus:
Comes in three colour options
10% sales go to animal welfare
Length 18 cm x 10 cm width
Handmade 'with care and creativity'
Buy it on Chacon the Conscious Cat Store
Costs $25.50* 10% off with the checkout code: PDINSURANCE. This code is valid once per customer and can be used for any Chacon items.
Cat gifts are just the best (ask this cat)!
We know how much a good toy means to a cat. Get your kitty a new favourite cat gift so they don't steal the neighbour's toys like the cat in this video did:
Cat insurance – a top cat gift this winter
Pet insurance is about more than stressing less during emergencies and illness. It's a planned approach to getting the best out of life for your pet. It makes payments for pet care easier on the pocket so you can focus on bonding rather than bucks. Give your meow a soft landing with cat insurance. It's the ultimate in cat gifts.
Cat gifts – have your say
Do you have any wonderful winter cat gift ideas to add to the list? Tell us about them in the comments below.
*Prices given are correct at time of publication