It's that dreaded car servicing time again. Clutching your wallet close to your chest, your eye twitches as you stare at your mechanic's phone number. You promise yourself that this time you'll escape a car service with savings left in your bank account. Sound familiar? Are you wondering 'is my mechanic ripping me off'?
If you feel like you're paying too much for your car servicing and repairs, you're not alone. Unfortunately, 80% of Australians are fearful of being over charged by their mechanics, and women in particular often feel patronised or ignored.
The good news is, car servicing doesn't have to be that way.
If you're someone who doesn't know a whole lot about the stuff going on under the hood, you should read on.
1. Become BFFs with your car
Believe it or not, maximising your hard-earned cash at the garage starts way before you make that booking. Whether you're in need of a scheduled, log-book service or taking it to get a diagnosis and repair, knowing your car inside and out will be a big help.
Your mechanic relies on you to describe any potential issues to diagnose and fix the problems. If you can't tell them exactly what's happening and when, they may go on a costly search in the wrong direction.
Our tip? Treat your car like a good friend and pay attention to what she's telling you. Make note of any smoke, noises or rattles in the engine and write down when it happens (i.e. when you start her up), what action you were doing (i.e. turning a corner or braking), how often it occurs and when the problem started.
Take notes on your phone (while parked!) or keep a pad and paper in the glove box. Don't try to guess the cause of the problem; leave that to the pros and just give them the facts.
Your mechanic – and your bank account – will thank you.
2. Show your car TLC between servicing
Even the best relationships need a little TLC every now and then. Show your car some love in between services and learn how to perform some basic checks and maintenance yourself. This includes checking the oil, coolant and tyres.
The payoff will mean you're more informed about your car, giving you more confidence when talking to your mechanic. Plus you'll be less likely to need an in-between visit. These links will get you started, and there's heaps more where they came from:
If you have a car-related question, you could always seek expert advice online, and search whether others have had similar experiences with the same make and model. This too may prevent a trip outside service periods and may just answer 'is my mechanic ripping me off'?'
3. Ditch the old mechanic and find a better one
How do you tell if your mechanic is pulling a swifty on you? Not all mechanics are dodgy, but it can be difficult to spot a bad egg from a trustworthy one if you're not sure what to look out for.
Stop asking yourself 'is my mechanic ripping me off?' and do something about it. Here are our tips for identifying those red flags.
Use your senses to avoid being taken for a ride
Look around: Quality mechanics keep their garage free of clutter so they can service and repair cars quickly. Once you're standing in the repair shop, take notice if the garage is littered with tools and half-repaired cars. This might be a sign of disorganisation and lack of experience.
Listen: Is the person answering your questions in a professional and forthcoming manner? Are they willing to provide an itemised quote and explain it clearly? If not, this might be another red flag. Keep asking questions until you're satisfied and don't commit to anything you don't understand. Listen to your head and your gut instinct.
Touch: Some mechanics have been known to charge for phantom repairs and parts. Ask them up front if you can take home any parts they pull out and replace, or if they can show you the damage. If the answer is no, why not?
Check qualifications
You want to be sure your mechanic holds the qualifications and certifications to operate, but also that they have the necessary experience to work on your car.
Specialty repairers come in all shapes and sizes, such as electrical mechanics and those who work on older cars, diesel engines and some particular European models. It's best to ask how long they've been working/diagnosing issues on cars like yours.
Compare reviews for a savvy mechanic choice
Like other businesses, mechanics rely on their reputation to bring in new customers, so it pays to ask around for recommendations from friends and family. If they can't help, you might like to compare reviews from sites like Auto Guru or OneFlare. You might find the answer to your question 'is my mechanic ripping me off?' before you enter the muddy waters of a new servicing centre.
Consider independent mechanics as well as dealership service centres. Their business model relies on building long-term, mutually beneficial customer relationships for repeat business. Plus, many are qualified to do a warranty-safe service (but best to get that in writing).
Beware gimmicks ripping you off
A common tactic some mechanics use is luring people in with cheap (and nasty) deals. The problem is, the cheap service price doesn't cover their costs, so they add items on to make it worthwhile (eg. new windscreen wiper rubbers, air-conditioning servicing and performance enhancing additives). Suddenly your cheap service doubles or triples in price, leaving you short.
The average cost for a service is around $180, so be wary of anyone offering them for $99! Get a detailed quote before you book and make sure any extras really are needed.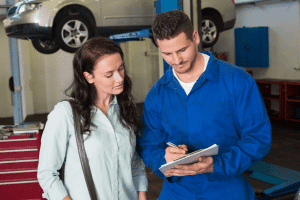 4. Get car servicing-savvy and know your quote
Now you've a detailed quote in your hands, do you know if you need everything on the list? It's hard to negotiate if you're unsure whether all those items are necessary.
Take out the guesswork by learning what's due to be checked or replaced, and what isn't. You'll find a list of standard items due for replacement at each service interval in your owner's manual. Handy!
Don't be afraid to get a second (or third) itemised quote that lists all the labour, parts, and fluids separately. Ask your mechanic to explain it clearly and confirm in writing the warranty on all parts and repairs.
Have you checked if you're covered by a capped-price servicing scheme? Here, the maximum price for each scheduled service is made widely available by the car manufacturer. They vary from manufacturer to manufacturer so call them to check the inclusions (or jump on their website).
5. Take control of all the repairs
Sure, there'll be times in your car's life where you'll need to pay for extra parts or repairs, but your mechanic should always seek your approval first.
Be wary of those who recommend a long list of additional additives and consumable items (such as those listed in the gimmicks sections above). They might be trying to bump up the cost of your service.
You should never feel pressured to add anything on to your initial quote.
Instead, ask them how much life a part has left and request a new detailed quote so you can do your own homework. You might find you can source the parts cheaper yourself, or a second opinion might confirm there's no need to rush ahead with the work just yet.
6. Keep a car servicing record
Every time you get a professional to work on your car, you should keep a record of what was done, how much it cost and when the work occurred (as well as the receipt).
This way you'll have a record of servicing, which might add value to your car when you sell it. And if you switch mechanics, you'll be able to provide them with its service history. This saves them time (and you money) trying to diagnose any issues that arise.
7. What to Do When You Suspect Your Mechanic Has Wronged You
Remember mechanics are human too, which means they sometimes make mistakes and can misdiagnose your car's problems. It may not be a question of 'is my mechanic ripping me off?' but an easy answer that unfortunately this time he or she tripped up.
If your issues continue after the repairs, make a note of what's happening and contact your mechanic immediately. Give them a chance to solve the problem quickly.
If you suspect they've been dishonest or acted fraudulently, consult this motor industry guide to Australian Consumer Law or the Australian Competition and Consumer Commission (ACCC).
If you decide to, you can report them to the consumer protection body in your state.
Other ways to keep your coins to yourself
At PD Insurance we know many people lack confidence when dealing with mechanics, so we hope this has given you the info you need to be more service-savvy.
When it comes to our own bread and butter – insurance – we can help you out there too. We have a range of potential discounts for you to explore. For example, if you're the only driver of your car you'll qualify for additional discounts on your comprehensive car insurance. We also offer an early shopper discount, a claims free discount and a paid in full discount.
Looking for a new quote? We can help you find ways to save on your next premium.
Or, perhaps you're interested in learning about the different factors that come into play when a car insurer calculates your premium. Remember that knowledge is power.