Dog winter jackets and warmers could be the ideal way to ensure your pup feels cosy as temperatures start to dip. And because our BFF loves us unconditionally, why not consider giving them a winter warmer gift.
After all, as we haul on thicker socks and an extra layer or two, some of our canine counterparts will also feel the chills. If your pooch is one of them, scroll down to see our favourite winter accessories to keep him or her warm.
Dog winter jackets: to buy or not to buy?
Not every dog feels the cold the same and some won't need a woolly jumper to stay toasty. For those who know their pooch has cold paws, you can skip the next section and begin your online shopping.
For anyone who's unsure, not to worry, the debate around pet clothes is ongoing. Read about it in our article 'Dress Up Your Pet Day'. And happily, you can still do online (window) shopping for those cute doggo clothes.
Is my dog cold?
The general rule of thumb is that your dog will begin to feel the cold once temperatures dip to seven degrees. Much like people, dogs are more likely to feel the cold when it's paired with wind, cloud cover or rain. Especially if the thermometer reads a sudden drop from a spell of hot days to a period of cold ones.
So, if it's reading five degrees (or less), your pup may benefit from a winter dog jacket.
How to tell if your dog is cold
The best way to gauge if your pup is cold is their behaviour. Here are some signs that can indicate he or she is feeling the cold:
Your dog is shivering
He's curling up
His ears or paws are cold
He looks like he's trying not to touch the ground by lifting his paws off it
He's refusing to walk
He's whining
If he's walking gingerly or stiffly, this may indicate his joints hurt and is likely cold
He's searching out heat sources and staying close to the heater or snuggling under a blanket
If you find that despite an extra layer, you're still shivering, this can also be an indication you need to think about giving pooch another coat over theirs.
Now, onto the shopping part, woof!
Dog jackets Australia
Here's your ultimate winter dog jacket shopping list for doggo jackets in every style you could wish for: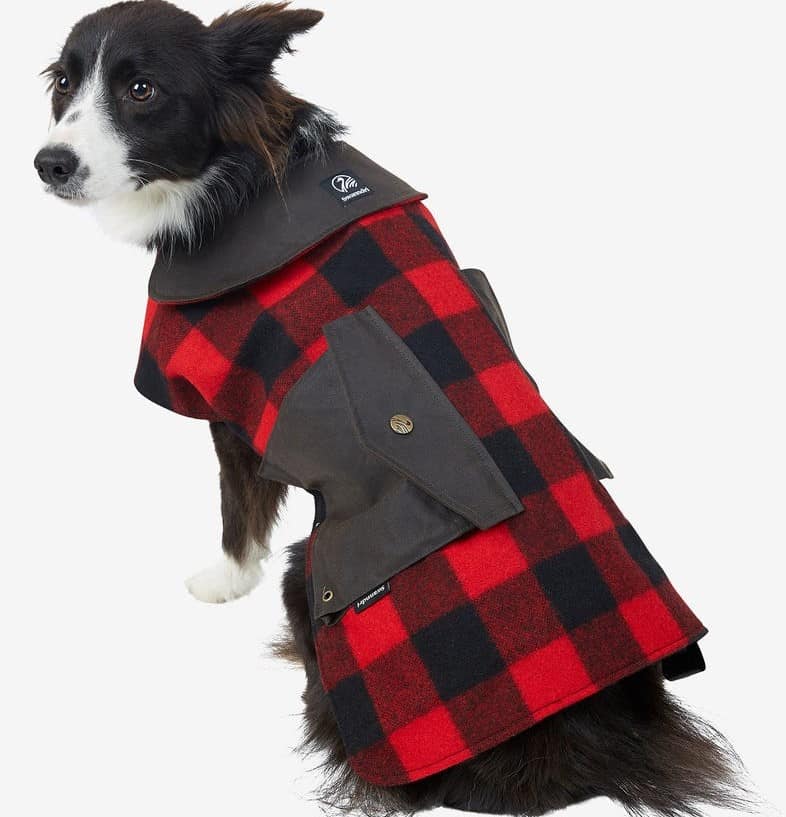 This wool dog coat comes with a polyester fleece lining and windproof membrane. It comes in a tartan or checked design, with handy pockets, a turn up collar and fastens with velcro straps.
This uber soft doggy jacket may just be our all time fave! It's made from 100% lambs wool and designed with a high waist for ease of movement. It also fastens with velcro straps.
The name says it all, well almost… A dog coat with a wool inner and oilskin outer. Oilskin is a tightly woven material with an oil wax finish that can withstand most weather conditions. This hardy design features a collar, pockets, velcro straps and press studs at the collar.
This well fitted wool jersey goes over the head and front legs for a fitted look. It comes in blue or pink and is made from 100% merino wool.
We couldn't resist throwing in this knitting book. For anyone who wants to learn how to make their own dog's jersey (or start a store!), there's an endless number of styles. Plus, you can design your own colour palette and choose what wool to use!
Check out other ways to keep your pup warm further down…
Dog body temperature?
Several factors influence how dogs feel temperature. A dog's breed, size, fur colour, age, health, lifestyle and where they sleep can all affect how prone they are to feeling cold.
Here's why:
Breed
For example, if you've a husky or sheep dog they're less likely to feel chills than a small or short haired pup. Why? Both have a double coat of fur and their undercoat is soft and downy for warmth while the top one is weather resistant, suitable for the great outdoors in extreme conditions. Tailor your winter wear to your dog – if it's needed at all.
Size
Regardless of breed, a smaller dog has less body mass and won't be able to retain as much heat. They're likely to need a bit more help keeping warm when temperatures plummet.
Fur colour
You may have never guessed this, but the colour of a pup's fur can actually count towards how they feel temperature. Dogs with light coloured fur tend to get cold more quickly (watch this space, we're going to have to write a whole article on the temperature and fur colour!)
Age and health
As you can imagine, old dogs and puppies get colder quicker than young guns and dogs in their prime. That's because puppies are using up all their energy on growing. While older dogs are slowing and storing their energy and may not have as much to spare on keeping warm.
Health
Any dog who's ill or unhealthy will feel temperatures more intensely. However, that won't automatically equate to needing another layer. The first line of defence could be a change to diet or exercise. Check in with your vet to get their opinion on the matter. You don't want to overheat your pup.
Lifestyle
Highly active dogs who play, train and exercise often will be better able to stabilise body temperature. Any pup who's less active is more likely to get cold. In addition, dogs who sleep outdoors in winter may need an extra blanket or jacket.
Winter warmers for dogs (other than jackets)
If you don't fancy dog clothes (many don't!) then there are other options for keeping toasty. For one, sleeping with your dog in your bed will keep them and you warm.
We've also got these top three recommendations:
1. Dog bed
The Boujad dog bed (or floor pillow) is handmade from merino wool by Berber artisans. Note that you need to provide your own stuffing; the seller recommends using old pillows.
2. Dog mat
The Snooza multimat is like a thin bed slash mat to give your dog protection from the cold underfoot. Plus it's easy to take along if you decide to travel. It's made from polyester and is fully machine washable.
3. Dog heat pads
When you've got a blanket and a hot water bottle, pup can have their equivalent – a heat pad for dogs! Check out this video for how they work:
Dog insurance, the ultimate winter warmer
Staying healthy is the top line of defence. Vet check-ups, medication and other pet health care costs can rack up hefty bills. Which is why we've tail-ored three affordable dog insurance plans to help you cover costs.
Dog winter jackets – over to you!
What's your favourite all-time winter investment for your pup? A dog winter jacket, another warm bed or maybe another dog for cuddling with? Post a picture on our Facebook page and share a comment below.