The National Motor Vehicle Theft Reduction Council (NMVTRC) recently went public with a warning – stealing keys during residential burglaries is an increasingly common method of stealing cars. Scary, right? At PD Insurance we're unfortunately seeing an increase in car key thefts too. Read our tips on how to prevent car theft at home…. Don't be caught unawares!
It Can Easily Happen
It's Saturday afternoon and you've spent most of it in the backyard garden. Afterwards, you decide on a quiet night in with a glass of wine and a movie.
You wander inside looking for your purse, so you can go grab your fave Indian food and a bottle of red. But it's not beside your bed where you left it. Maybe it's somewhere else.
You check the office, the dining room, and the kitchen. Nope.
You decide to ring your partner who's out, to see if they moved it. But where's your phone?
Feeling a bit panicky now, you head for the front door, only to find it ajar. The bowl of keys on the side table nearby is empty, and to your horror – your car is not in your carport.
You feel sick to your stomach as it dawns on you… You've been robbed, while you were home! It's an awful experience to know your privacy has been invaded and your valuables taken.
If you're reading this thinking it sounds like something that wouldn't happen to you, think again. Situations like this are happening more and more.
So, what's behind this trend and what can you do to prevent car theft from your home? Let's explore.
The Facts About Car Theft
According to the NMVTRC, on average, one car is stolen around every 11 minutes in our country. That's why it continues to promote a 'Pop. Lock. Stop Sneak Theft' campaign.
This instructs us to keep keys out of sight, lock windows and doors, and make sure everyone else in the home is doing the same.
NMVTRC's data also shows us that:
Half of all vehicles stolen are taken from home, including the driveway or garage
70% of cars are stolen with the owner's keys
Thieves will often sneak into the property, taking advantage of unlocked windows and doors
Often, the owner is at home when this happens, though 95% of the time the thief avoids any interaction
Recent NMVTRC data also shows in up to one third of all home burglaries in major capital cities where a car was stolen, the vehicle keys were the only contents stolen.
Despite the security features built into modern cars, they continue to get stolen and used for profit or short-term use (like other goods burgled). Offenders have just had to get equally smart about how they steal things.
For the majority, this means getting their hands on the keys – even if that's from your home!
Car Thieves Are Burglars
The data tells us that most car thieves are opportunistic and take advantage of easy targets such as older cars they can hotwire and cars where the keys might be accessible. Easy to reach spots like near a door or window at home.
Yet, NMVTRC research has previously found only 3 in every 5 Australians keep their car keys out of sight.
Clearly, many of us still don't know the link between car theft and keys being taken from home. Time to fix that.
What Makes You Vulnerable to Car Theft at Home?
Let's think like a thief for a moment.
You're on the hunt for a quick, easy steal with minimal fuss. You're looking for a car parked at a house with a restricted view of the street, to provide cover while you work. These might be trees or other buildings.
You're looking for a place where there doesn't seem to be many people about, and you can see easy access to an open door or windows.
All you need is an opportunity to run in and grab the keys (maybe even other valuables) that are within view of the front door. Or keys kept in the usual spots.
When one or more of these conditions line up, it's as easy as acting quickly. Getting in and out before someone notices you. By the time anyone figures out what's happened, you're long gone.
Sound too simple? It is! But only because we make it so for them. The good news is a few small changes can make the world of difference and reduce the likelihood of you having your car stolen from home.
Bookmark our related blog article where we list simple daily habits that prevent car theft, then keep reading this for other actions we can take to deter thieves…
How to Deter Thieves from Entering Your Home
If you've read this far, you'll already know more than many people about the dangers of having your car taken from your home using your keys. The good news is that now you know, the next steps are simple.
More research tells us the following factors have been found to effectively deter thieves from entering your property:
Having a dog
No one wants to tangle with a protective pup when they're trying to guard their pack's property.
Working alarm systems
Not just stickers on the front door! Install a home alarm system that meets the standards (AS/NZS 2201.1-2007).
Obvious signs of activity inside and near the front door
Thieves will be watching for lights, sounds and movement inside the house. They'll also notice quickly if mail or newspapers are building up outside.
Protect your windows
Prevent criminals from getting in by closing your windows. Better yet – add key-operated lock sets and security flyscreens to them for added protection.
Locked doors with security grills
Replace any external doors and frames that aren't made of solid construction. Keep them locked even when outside or at home away from the door. Fit them with deadlocks that comply with AS 4145.1-2008.
High visibility of property from road
Keep foliage around the house trimmed to provide clear line of sight to the street and reduce hiding places for thieves.
Motion activated external security lights (and cameras)
No burglar wants the home owner or neighbour to catch them sneaking around a yard. Once the motion sensors activate, they're caught in the spotlight.
Gates and tall fences
Reduce the likelihood of someone getting into your yard and being able to drive away with your car by having a solid, high, lockable gate installed.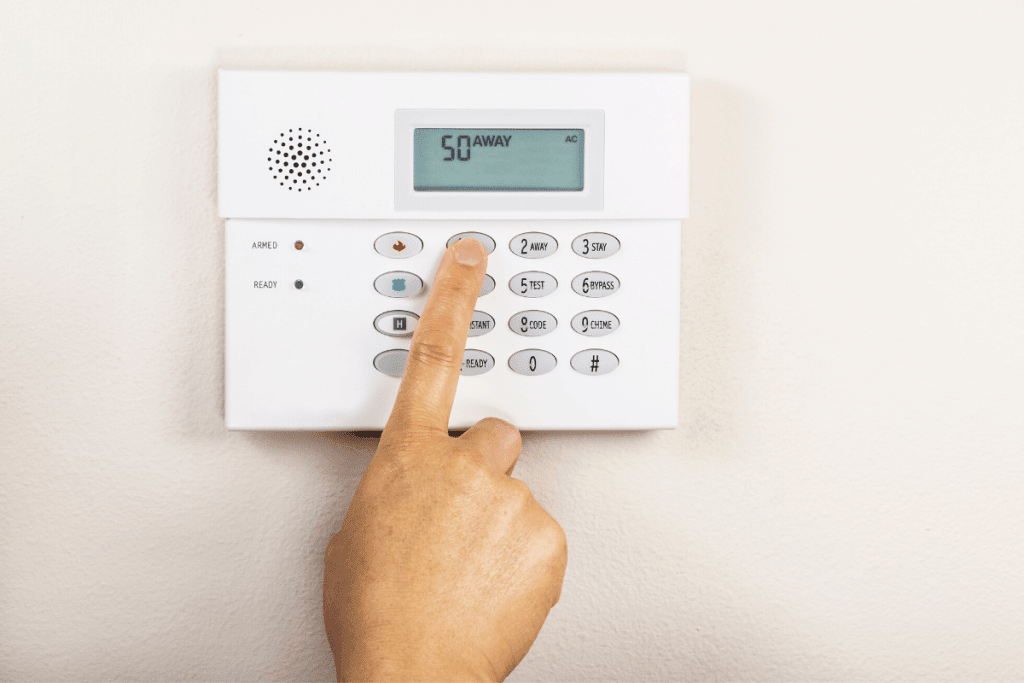 Extra steps to secure your home from car thieves
If you can't take every precaution on the list, the following simple actions can make a big difference.
You might even like to take the Neighbourhood Watch quiz: How safe is your place?
Keep the garage locked
We love that you're so trusting. But stop it.
Get to know neighbours
An extra set of eyes will help alert you to any suspicious activity.
Maintain appearances
Going away? Get someone to collect mail, remove rubbish bins, etc.
Keep valuables out of sight
Not just your keys. Thieves will be extra tempted by valuables they can see in plain view in your house and car.
Been burgled? Change locks or fit extras
Don't take any risks; if a burglar took your keys, they might return and take advantage of this again.
Be a good neighbour
Be vigilant and keep an eye out around you, and report any suspicious activity by contacting Policelink on 131 444.
Reconsider what info you share online
Are you known to head off on regular regional road trips? Or perhaps you've been excitedly awaiting a long weekend driving holiday with friends? (Read our guide to planning a girls weekend). Regardless, that's probably information you should keep to yourself.
Be careful about sharing info online that makes it clear your house will be empty – and your car parked in your garage – for an extended period.
Heading out with the family, even for the day? Ask yourself if you're better off sharing that when back home. Or just share it privately with close friends and family.
How to Prevent Car Theft at Home by Storing Keys Well
Now you know how to keep your property safe, here's how to keep your keys out of the hands of car thieves.
Store your keys out of view and away from external doors and windows
Avoid keeping your keys in common places such as a front door key rack, kitchen key bowl or in sight in the master bedroom, living room or office. If you need to keep them there, invest in a safe to store valuables (and spare car keys in) while you're not at home.
No safe? Think creatively
If you don't want to buy a safe, think about somewhere that's accessible to you but not obvious to anyone else. You know your home's nooks and crannies best. So, make sure you hide your keys well. And additionally, that visitors aren't privy to the positioning.
Take your keys with you if you go out
Whether you're taking your car or planning to leave it at home, don't make it easy for someone to take at a later time. Make your keys a part of your going out checklist whether you need them or not.
Never leave spare house and car keys in the car
It's tempting to leave your car keys in the ignition if it's parked in your garage, or spare house keys in your glovebox. However, this just makes life easy for thieves.
Don't label your keys with your name or address
If you need to label your keys, use your mobile number or driver's licence instead but beware of people fishing for details if they call you.
And if you're unlucky and your car has just been stolen, take a couple of minutes to read: Your Car Got Stolen. Here's What To Do.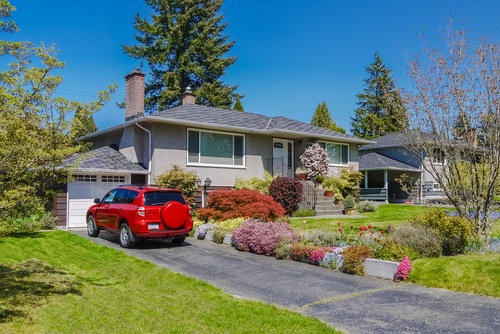 Have the right cover
Did you know that car insurance companies factor the safety and security of your car into their insurance premium calculations? Car theft insurance means you're protected financially if your car is stolen while you're relaxing in the garden.
Importantly, incorporating a range of anti-theft measures into your car ownership gives you peace of mind. You know you've done everything you can to avoid having your car stolen and house burgled.
Check out our affordable car insurance options for those times when the worst happens.