Now that spring has sprung, summer is a hop, skip and a jump away – and with it comes summer holidays! After lockdowns aplenty, cabin fever has us Aussies ready to make the most of the time off. Finding reputable boarding kennels and/or catteries will be on many pet parents' to-do lists because knowing they'll be safe and well looked after while we're away is an absolute must.
Whether you're choosing between kennels vs pet sitters (or perhaps you've decided travelling with pets is more up your street), we've got your checklist.
Here are five basics to get your ducks… ahem, pets… in a row when identifying, selecting and prepping for boarding kennels and catteries decision-making.
1. Consider costs of boarding kennels and catteries
Nothing spells disaster more than a bad kenneling experience, for the future of both you and your fur kid. You can steer clear of this with a bit of know-how.
Look for a facility you can afford, but please avoid simply opting for the cheapest one. Weigh up quality, affordability and of course reputation, reputation, reputation.
This is one occasion where you simply do not want to pinch pennies and come home to sad puppy eyes or kitty glare. Knowing pets are happy when you're away will help you have the best holiday you can.
Parents of human kids will certainly know all about this when it comes to choosing an OK (or bad) baby sitter over a pro. Protecting your furkids is very much the same – when they're happy, you're happy and vice versa.
Boarding facilities usually charge per day. Confirm when payment should be made and what form of payment they accept. Make sure you're clear on when check out is and what the charges are for late collections as well as cancellations.
Why? Because you never know when holiday plans might change. You might end up trapped in a sudden lockdown across a border or choose to come home early. Fingers crossed the lockdowns are over…
2. See what others have to say
While you can't ask other cats or dogs what they thought of a past kenneling or cattery experience, their owners will have tidbits to share. A reference from a pet lover whose pet has tried and tested a facility with good outcomes is as good as gold.
Try asking your vet, groomer, friends, family or neighbours for a boarding kennel or cattery reference. Besides visiting the facility's website, also check their social media pages and Google reviews. Every business has good things to say about itself. What you're really after is third-party opinion.
In short, what other pet parents have to say will help you develop honest trust for a facility or avoid sending them an email at all.
3. Visit boarding kennels and catteries beforehand
It's always a good idea to visit a boarding kennel or cattery in person. Nothing beats reality and photographs that have been retouched (or more) in photoshop don't always spell the truth. Once you visit in person you can see whether the pets staying there are genuinely looked after – it will be obvious if they're happy and calm.
Make a list of things to check so you don't have to think them through on the spot when there. Some examples include cleanliness, security, and respect for animals.
During your visit, see if the living areas and food and water bowls are clean. Make sure they don't practice cage confinement or dog chaining. Do the animals staying there look content and upbeat or are they fearful? Read 'is my dog afraid' to understand dog body language and signs of fear.
The facility needs to have securely fenced non-slip sleeping areas. Likewise, areas for exercise and playtime for dogs and cats need to be well-fenced and separate from sleeping areas.

Other considerations include finding out the boarding kennel's or cattery's maximum capacity. You could ask about what the daily routine looks like and insist on meeting staff who care for the animals during their stay. You might also be interested in finding out what education, training or accreditation either the staff or facility has achieved.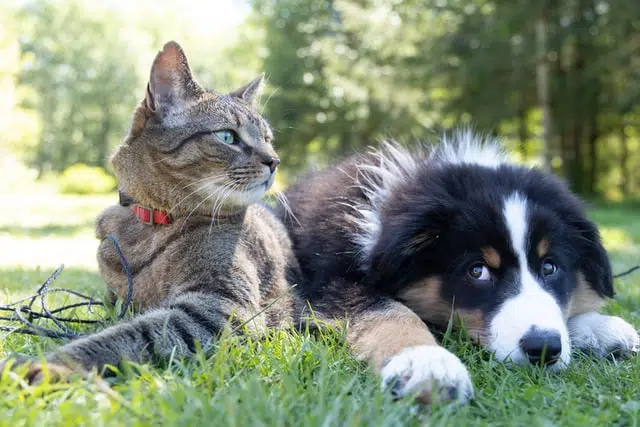 4. Pet vaccinations are a must
Any boarding kennel or cattery worth its salt requires all pets to be fully vaccinated and will check these are up to date. This helps protect all pets from being put at risk from infectious illness.
Breakouts in cat and dog sicknesses can easily be kept in check by keeping on top of your pet's schedule of jabs. Without these precautions illnesses like kennel cough have a way of spreading fast far and wide.
As we all know, vaccinations can be a little mysterious. To make life easier we've compiled some resources to help you keep pet vaccinations and other health care checks up to date. Here's what you need to know for Aussie cats and dogs:
Thankfully, although there's been talk in the global news about the development of a COVID-19 vaccination for pets, they won't be needing one anytime soon!
5. Make home away from home more familiar
Any change can be stressful to pets – even positive changes! Taking a piece of home to your pet's home away from home can help the transition go smoothly. One way to do this is by maintaining your pet's diet. Ensure they eat the same food they usually do at home if possible at the same times as normal.
If the boarding kennel or cattery can accommodate individual feeding routines, then supply them with food to last your pet's stay. You can even help make sure it works out by portioning the food in individual bags or containers.
This way your pet has a little bit of your direct love each time they eat. Plus you're helping the staff achieve what you want in terms of portion size; something you've no doubt calibrated over time. Also make sure to let the kennel or cattery know of any digestive, allergy or health issues they need to take into consideration.
Another way to help your pet adjust to new surroundings is by sending a blanket, toy or shirt you've worn. If the facility allows, of course.
Also be aware bringing pets home from boarding kennels and catteries might take a bit of adjusting to. Perhaps set up some pet pheromone diffusers around the house for the first few days back to help ease them in (and spend a little more regular time with them!). There are many different options available, such as Adaptil for dogs and Feliway for cats.
6. Get quality affordable pet insurance
When your pet heads into the wide open yonder it's important their health and your bank balance are well covered with pet insurance. Our plans safeguard you for treatment when accidents and illnesses strike, as well as third party liability, non-routine vet visits and more.
Plus, at the moment you get one or more months of insurance free when you buy online. Without any lock-in contracts. Why wait a moment longer – take 2 minutes to get a quote today.