Lockdown is over, summer is near and it's time to remove the cobwebs from our cars. In other words it's time for the ultimate Australian road trip so you can experience some freedom and fun! Whether you're travelling with pets, partners or family this article has destinations you'll love driving to.
And because we've all done a bit of self-isolating and would prefer not to go back there, remember to check the latest updates on restrictions and safety while living out on the road.
From canoeing and camel riding to swimming in aquamarine waters and wine-tasting, where else on the planet would you rather be? Australia is one of the ultimate destinations, and we're already here. All you need to do is have your car serviced, plan your ultimate Australian road trip destinations, read these road trip tips and you're away.
Ultimate Australian road trip hacks
There are two ways to guarantee the ultimate Australian road trip. Firstly, get yourself perfectly prepped to avoid mishaps along the way. Secondly, it's all about choosing your destinations – location, location, location!

It's a good idea to service your car before a road trip, obviously. Why wouldn't you, with all those kilometres ahead and many of them likely through areas you've never been? This may sound like a bore, but it's a whole lot better than a car breakdown in the middle of who-knows-where.
Be sure to read our car servicing checklist so you get what you pay for and your car emerges in tip top shape. If you're into DIY, check out these basic car maintenance tasks you can do yourself.
Besides getting your car ready for the open road, here are some great tips for planning your itinerary and keeping kids happy on long (or short drives):
Also check out these easy fuel efficiency tips. Or, if you drive an electric car, read our article on zero emission vehicles for useful tips and resources that help you locate charging stations along the way.

Now that you're all set, here are some awesome destinations for your ultimate Australian road trip…
Ultimate Australian road trip destinations aplenty
When it comes to ultimate Australian road trip destinations, the choices are endless. In fact, because we can't fit as many as we'd like in one article, be sure to also read ultimate road trip destinations and our regional road trip guide.
But first, here are some of the top destinations, state by state:
WA road trip love
West Australia is home to wilderness and wine tasting, camel riding, hiking, swimming and more. Just remember to pack your sunscreen.
Your ultimate west coast Australia road trip guide includes the following:
Camel rides. Ride on the beach or in the bush with Broome Camel Safaris, Red Sun Camel Camels and Pilbara Camel Trekking
West Coast National Parks. Camp, swim and canoe in Karijini National Park, Mitchell River National Park and Wolfe Creek Crater National Park
Wine tasting. Cruise (but don't drink and drive) through the Margaret River, Swan Valley, Perth Hills, Peel, Great Southern, Geographe, Southern Forests and Blackwood Valley wine regions… sipping on Australia's best reds, pinks and whites and bubbly.
NSW road trips
New South Wales is a bounty of driving holiday destinations, from mountain air to sun and sea, rainforest camping and cultural hotspots. Make a quick recovery from lockdown cabin fever by visiting the 50-million-year-old Blue Mountains. Hike to the Katoomba Falls and head back for an afternoon sundowner and dinner at the elegant Carrington Hotel.
If you're simply craving the sun kissed and salty ocean experience, try driving to Murramarang National Park for a pristine coastline of beach hopping. For short yet satisfying holidays, try this five-day coastal road trip that's perfect for families. Then be sure to read sea air vs car for tips on how to protect your car from salt.
If you'd like to get away from the coast, try out Dorrigo National Park's Gondwana Rainforests. This natural wonder offers up a wealth of bird watching and you can explore the forest canopy via aerial rope bridges. Plus there's the option of camping on site for overnight stays.
If you just want to get away from the nerve center of city life and want to keep it urban, this is the perfect time of year to visit the historical town of Grafton. Right now the Jacaranda trees are blooming everywhere in NSW, but the Grafton Jacaranda Festival runs from October to November and is arguably the most spectacular rendition of the purple blossoms. The festival offers up lots of events from nighttime fireworks to daytime markets and more.
For anybody travelling with pets, we've a special NSW list of pet friendly accommodation including caravan parks, holiday houses, campsites and more.

QLD road trips
In Australia we're lucky to be home to the Great Barrier Reef, one of the world's most amazing natural wonders. We recommend choosing one of the road trips designed for Cairns and the Great Barrier Reef. These include the Great Barrier Reef drive, a family safari across the Savannah Way and a these two-day or two-week budget beach drives.
Whether you're travelling by car or caravan, read our article on caravan travel to find out about Daintree Rainforest – a Queensland must-see. The 150 million year old tropical rainforest is one of Australia's natural world heritage sights and is well worth the journey.
Check out these Insta posts by fellow travellers for more ultimate Australian road trip destinations in QLD:

Road trip SA
From beaches and lakes to unparalleled rock formations, South Australia is filled with some of the ultimate Australian road trip destinations. Here are a handful of our top picks for this festive season:
Lake Macdonnell. Visit the town of Penong for a peaceful overnight stop-off. During your stay you can visit the pink Lake Macdonnell on the western Eyre Peninsula. As you can see this contrasting blue and pink waterway palette creates the ultimate photo opportunity:

Pildappa Rock. Drive through the town of Minnipa, or stay overnight. During your stay be sure to visit the undulating granite formation of Pildappa rock where you can walk on designated trails that offer spectacular panoramic views:

Murray River. Drive along Australia's longest river, the Murray, stopping off at towns along the way. This 130 million year old river connects SA to NSW and Vic and offers plenty of activities from canoeing, paddling, houseboating and forest explorations.
Snelling Beach. Touted as one of Australia's bucket-list destinations, Snelling Beach offers a special site with dunes, a river mouth and crystalline seawater all meet. It's the ultimate beach to swim, snorkel and simply relax at.

Also read our guide to visiting wine region stop-offs, Limestone Coast and Flinders Ranges – if you're not travelling now (but wish you were!) these destinations are fun in summer but are count as great winter getaways in South Australia.
Best NT road trips
Travel to the red centre for a wide-open breathtaking view of the desert by day and stars by night. With recent rains, the red centre is sprouting bits of complimentary greens that make for photographic delights:
If you're driving a 4X4, a stop off in Butterfly gorge in the Douglas-Daly region gives you a chance to pool hop, swimming in the larger low lying pools and up the gorge to the smaller pools. This natural sanctuary is sure to inspire your Insta friends:
Katherine hot springs offer up tranquil waters that bubble up at a temperature of 25-30 degrees Celsius. Why in summer you ask? These thermal pools are open until 7pm so imagine going for an afternoon dip to relax your muscles and rejuvenate.
Best road trip attractions TAS
Tasmania is arguably one of the most scenic destinations on the planet! We've compiled a two-week-long list of must-see places to visit (see the link below). From rainforests to rivers, artisanal markets, harbour cruises to wine tasting and more, Tasmania is your oyster.
What to expect:
Photo gallery. We've compiled an inspirational photo gallery from fellow travellers
East Coast. Coastline hopping, beachside towns and wine tasting
Western Wilds. Hiking, wilderness and cultural folklore
Cradle to Coast Tasting Trail. Think food + travel and we're away
All this and more for your ultimate Australian road trip when you read our Tasmania driving holiday travel guide.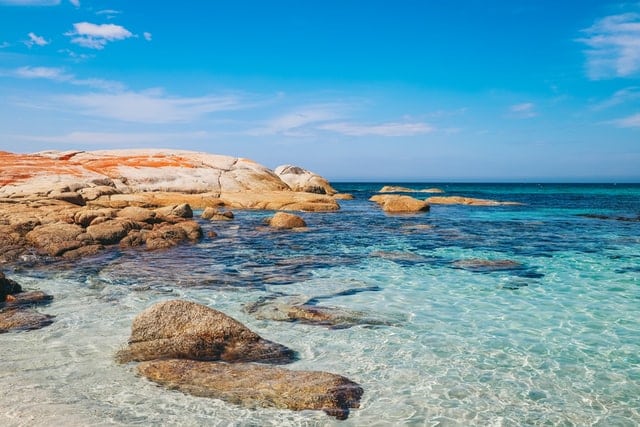 Taking pets on your ultimate Australian road trip
If you're taking your furry family member with you, here are some guides to help you prep:
And always be sure to check in advance with your planned accommodation to confirm if they're pet-friendly!
Car insurance for the ultimate Australian road trip
No road trip would be complete without comprehensive car insurance for peace of mind. You also have the option to purchase year-round 24/7 roadside assistance for an annual fee on top of your car insurance plan.
If you're bringing along your dog or cat, be sure to also check out our pet insurance plans that help cover vet bills, hospitalisation for accidents and illnesses, prescription medicine and so much more.
Lockdown is over and summer is a moment away – why wait a minute longer – simply click below to get a quote now.