These days, we spend so much time in our cars. And whether it's our daily work commute (ugh), a cheeky weekend away with family (go on then) or a 'Thelma & Louise' style road trip with girlfriends (oh, yes please), what we look for in our cars has changed. Now, we research new and future car technology as well as the good ol' reliable tech.
Technology has changed the way we drive. One of its best aspects is providing greater peace of mind when it comes to safety. You know you have airbags, braking assist and traction control there when you need it.
And when we get into the driver's seat, we want to enjoy driving (yep women like it too!).
We want to know we can easily navigate to where we're going – without being caught in unexpected traffic. Every day we need to be connected to the information that's important to us, so we can find what we're looking for, and never miss a thing. We all desire features that give us more headspace to focus less on the car and think about other important things.
In this post we're going to share with you some of the coolest future car technology and gadgets around. Some are currently available while some tech is still in development. Even better, you don't have to spend a fortune to get your hands on some of these.
You can wirelessly connect your compatible device (both Android and iOS) to the HUDWAY Cast to easily control your music, view messages, access maps/traffic alerts/route view and more while you're on the road.
It sits on your dashboard and turns your smart device into a heads-up display (HUD), while allowing you a clear view of the road. How? It projects a mirror of your device's screen that's in the same line of sight as your windscreen.
The reflected image from this device can be viewed in any visibility, day or night. So, you can easily navigate your way around without taking your eyes off the road.
Want one? It's available from Amazon and many other retailers.
Of course we don't encourage anyone to drink and drive. If you think you may have had one too many espresso martinis it's better to be safe than sorry.
The S80 Pro is a professional grade breathalyser. It's easy to sneak into your bag in case you need it and it comes with disposable mouthpieces for hygiene. What's not to love about being prepared?
Without an autonomous car to drive you home, you better call an Uber or a taxi.
Worried about leaving your car parked away from home all night long? Our next piece of new car technology might be just what you need (or you could read our tips on how to keep your car safe).
Dash and Rearview Mirror Cams
Okay, so dashboard cameras are also not so much 'future tech' as 'been around for a while tech', but they're still worthy of a mention. And not just for safety.
While there are loads of dash cams on the market, a quick run around the internet tells us a Garmin Dash Cam might just be the one you want on your windscreen. It has activated sensor recording that allows you to monitor your car while it's parked (See? Catching that taxi home was a good idea).
Plus, in the event of an accident or traffic event the GPS tracking and crystal-clear video is the car tech you need. The recording automatically saves on impact, meaning you can capture those important details before a collision.
If you're after something a little more integrated and discreet (we won't ask), the YI Mirror Dash Camera might be for you. It offers wide-screen, HD front and rear-view footage and starts automatically, so you don't even have to think about it. It'll alert you to possible fatigue on those tiring trips to see family and has a gravity sensor that automatically backs up footage in an emergency, much like the Garmin.
Apart from the safety features any type of dash cam offers, you can also make fun videos. These could be of your days or nights out with friends, your road trip adventures, or the vid might even see you become the next car-driving, Beyonce-singing, Instagram superstar (ha)!
Because if you don't film it, did it even happen?
Electric Vehicles Unplugged
As the years progress, increased battery life and range add to the appeal of electric cars. Just about every car maker across the globe has an electric or hybrid model in their range, and they're chock full of handy tech.
From pre-cooling your car before you get in, to controlling smart devices in your house from your car (think security and lights), car makers continue to put extra thought into how your electric car integrates with your life.
Now, with the Labor Party's pledge to encourage more Australians to start buying electric vehicles, we don't think it'll be long before car parks have spaces with inductive charging pads. Then, all you need to do is park your car to charge it.
The change to a zero-emission mode of transport will be a no brainer. We think it's time to start comparing models.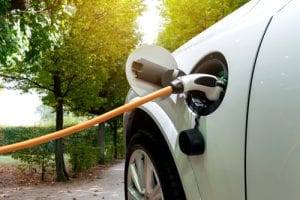 Driverless Cars
Long touted as the cars that would signify the future has arrived, recent years have seen plenty of media hype around driverless cars. Or, as their makers prefer: 'autonomous vehicles'. And this future car technology might be available sooner than you think.
"Imagine being able to order a driverless car through an app on your phone, in much the same way as you order an Uber now," this ABC article ponders.
"On the road, it will adjust its speed to avoid accidents and catch the green lights… A second driverless car rolls up at its regularly scheduled time to take the kids to school.
"In a seamless ballet, your morning routine is coordinated with everything calibrated to minimise time on the road and maximise your capacity to do other things."
It feels like science fiction, but we might see this future car technology come true sooner than you think. And with research confirming that up to 90% of car accidents happen due to some form of human error, it might just make our roads safer. We're excited to see how driverless technology might potentially save lives. After all, autonomous vehicles don't get tired, angry, frustrated or drunk.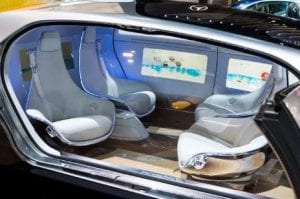 Flying Cars – We're Not Kidding
Remember the Jetsons? Remember how you wanted to jump into a flying car and zoom around, free of road rules and other annoying restrictions?
That dream might be realised sooner rather than later.
While flying cars are not a thing yet, Aussie startup Alauda has built the Airspeeder Mark I and says it will be racing soon. Given how quickly time passes, we could have actual flying cars in no time at all.
Now, if that is not some uber geeky, ultra nerdy but beyond cool new future car technology, then we don't know what is.
Enjoy Future Car Technology, Today
Looking to monitor your car remotely using an app, improve your car's safety or economy, or just have some fun? There's an amazing range of gadgets and car technology available today. And plenty on the horizon to keep an eye out for. Exciting times, people.
One thing is clear, the way we drive and the way our cars are integrating into our lives is changing. We can't wait to see what the future holds for cars (and drivers).
Another aspect of motoring that continues to evolve is car insurance. Did you know PD Insurance now provides a discount for people who are the only driver of their car? We provide other discounts too… Maybe it's time for a car insurance comparison quote?