Ever considered the difference a car hail protector can make to your car – and your bank balance – in the face of fast-moving hailstones? Or even big, pludonky hail chunks? (technical term)

In Australia, hail causes more physical and financial damage than other serious thunderstorm weather. If your car is unprotected while parked it's at risk of becoming the next thing in swiss cheese fashion.
This is why we've compiled a guide to help you choose a good car hail protector:
Choosing a car hail protector
From our internet research, it seems you can get a car hail protector for as little as $220 or as much as $1600.
Consider the price point to be like buying pair of Levi's versus cheap factory shop denims. They're both jeans but the quality of material, stitching, craftsmanship and overall design can count toward longevity and durability. And the brand will bump the price higher too, of course.
But fashion analogies aside, not all hail protectors are made equal. You want one which fits (your whole car, including right round your boot), protects it well and lasts for wear and tear.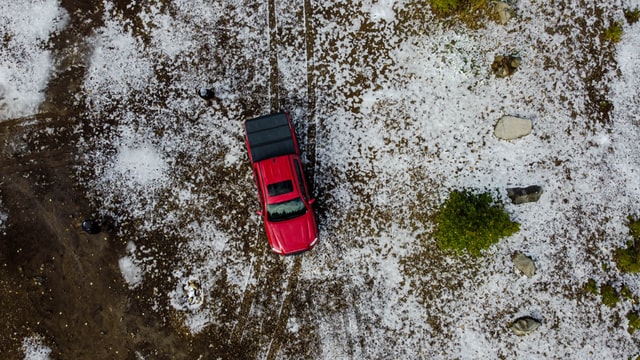 Key purchase considerations
Here are some points to tick off during a car protector purchase:
Coverage: Does it cover the whole car, or just the roof and bonnet? You don't want hail dents on your doors, boot, etc.
Protection: Some designs are padded on top but the sides are thinner material, which won't provide full protection either.
Material: If there's padding, how thick is it compared with other covers? Is there a robust waterproof and UV resistant outer layer and a soft inner layer (to protect your paintwork)?
Size: Will the size not only cover your car adequately but be a snug fit too? Check the dimensions of your car before purchasing; a good fit is important for protection and to stay well-fastened.
Attachments: Is the cover elasticated only or does it have straps or clips that fasten to your car. After all, you want the cover to withstand hail and stormy weather without blowing away!
Storage: Can it fold and fit into your boot when you're not using it? If not, then it simply isn't a practical purchase!
Inflatable car bubble
Consider an inflatable bubble as the pricier alternative to the fitted cover. It creates a 'bubble' garage around your car and zips shut, so look for durable material and zips. It comes with a fan that inflates the capsule (once you've driven onto the placemat) and you zip to close.
These are more expensive but also protect against vermin and seem to have fewer customer complaints. Don't think vermin or insects are considerations when choosing a hail protector? Read our article 'Not Driving As Much? Here's How to Keep it Happy' and think again.
Hail proof & storm car cover reviews
Do some research on the products available on the market by reviews as well as price point and features. Read what previous customers say about different products. Sometimes what the seller says the product offers and what it turns out to be are two different things.
Check to see that customers are happy with the measurements being true to spec. This is a common problem with fitted covers but less so with inflatable bubble covers. Also pay attention to what customers say about how easy or difficult the cover is to use, whether it works and if it lasts or breaks quickly.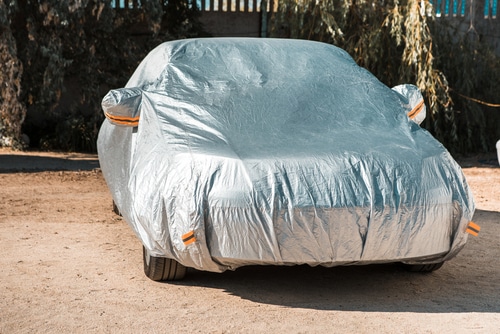 Safely using your car hail protector
Hailstones can be so small they melt before they reach the ground, or they reach the size of golf balls. Bigger, faster hailstones routinely write off cars across the continent, because the damage is so costly it's not worth repairing. One of the reasons why car insurance is so important!
Getting a good hail protector can be a significant help, but you'll still need to make sure you know how to put it on properly. Even then, hail could still potentially best the car hail protectors and cause some damage.
Read these three tips to make the whole experience as effective as possible are:
1. Practice
It's a good idea to practice putting your car hail protector on at home a few times because the process can be tricky.
Once you know how to unfold the cover, get it over the full length, width and sides of the vehicle and strap on the attachments, you'll be better prepared if you need to put it on last minute when weather hits. And take note that sticky-outy car aerials may have to be removed before you can fit the protector over your car.
Also know putting the hail protector on in an actual hailstorm is probably going to be harder because you'll be outdoors in rapidly shifting weather conditions. Avoid if possible. Keep an eye on the Bureau of Meteorology's forecasts so you're not surprised by risky weather.

Lastly, remember that a hail protector needs to be dry before packing away, so you don't get some sort of mildew infestation in your bonnet. Or over your protector itself – much like a camping tent.
2. Plan
Check the weather before heading out, especially for long drives and road trips. Use a weather app so you can get the most up to date weather info even while you're on the road. We all know how unpredictable Australian weather can be. Do everything you can so the weather doesn't sneak up on you.
3. Plot
If weather looks uncertain or it's obvious a weather event is coming, plot your driving routes with a couple of sheltered stop-offs planned along the way. Even the best hail protector could blow away while you're putting it on, and sometimes extreme hail does damage no matter the cover. Having a few sheltered parking spots just means you've got your bases covered.
Driving in hail
If you get caught out in an unexpected hailstorm, don't try to drive away from it. Nor should you increase your speed to get to your destination. Speeding up in stormy conditions can be more costly than hail damage.
Look for somewhere sheltered where it's safe to pull over and wait the storm out before heading back onto the road. Keep your seatbelt on if you're staying in the car and are parked anywhere near the road.
An outdoor parking lot with a hard roof or big shade sail or an underground parking lot, will do the trick but stay away from trees. Trees aren't safe to shelter under in a storm – branches can get pulled off by the wind and trees can get uprooted and topple. You don't want to be staying safe from hail only to have your bonnet caved in by a tree.
Find out how to stay safe in extreme weather and wet road conditions here.
Does insurance cover hail damage to a car?
Yes, PD insurance offers comprehensive car insurance that covers loss or damage caused by hail up to the agreed value. The agreed value is the amount you decide on when purchasing your policy.
In addition, we can also cover loss or damage from fire, flood, storm, theft (and attempted theft) and accidents. Depending on your policy type.
For an even softer landing, you can get 15% off the first year of your premium when you purchase a policy online now. Time to get a quote!
Over to you
Tell us about your car hail protector adventures – have you found a good one at a reasonable price and put it to the test? We're all ears in the comments below: