Is it illegal to eat while driving in Australia? Let's say you're reading this while getting ready for work. You're wondering 'is it OK to eat my cornflakes when I'm driving to the office?'. Or 'am I allowed to down that freshly brewed flat white as I commute to my boardroom meeting?'.

The answer is yes and no. There's no law against driving while eating, but it can nevertheless amount to illegal behaviour. Let's just say it's complicated. You're probably wondering how can it be complicated; either it's against the law or it isn't?

We hear you, really we do (we can almost smell those freshly roasted coffee beans), but we'd be short-changing you if we said it's as simple as that. Here's why…
Is it illegal to eat while driving: Yes or no?
In Australia, there's no law against eating while driving in any state or territory. But in truth you can still get into serious legal trouble for doing it. Think for a moment about court cases. They seem to take so long despite each case surely resting upon a law that clearly says the accused did or didn't commit the act in question.

However, the law is not one but many interlocking and overlapping laws that can tug the outcome in different directions. It's designed to keep people safe and make society function well. Not one, but many people. What's right or wrong hangs in the balance of a hierarchy of needs – and that's why court cases sometimes unravel slowly.

It's why great lawyers can call on clever combinations of different laws to get the results they need. It also explains why although there's no law against eating a burger behind the wheel, you can still get fined for doing it. So before you ask 'is it illegal to eat while driving?', first ask 'is it safe to eat while driving?'.
Is it safe to eat while driving?
You only have two hands, both of which are needed to drive safely. Holding a burger or cup of coffee in one leaves the other to control your car as it hurtles along between other people and their cars.

You'll also use some level of concentration to avoid spilling sauce or coffee on your clothes. And at that moment, the need to keep your coffee at the right angle so your clothes stay clean can seem greater than staying in your lane.

This isn't logical, but it's possible.

Getting from A to B neat and tidy vs getting there in one piece shouldn't be a complicated choice. But once you commit to eating at the wheel you're already compromising your safety. The law is, as we mentioned, all about keeping people safe.
So is it illegal to eat while driving in Australia? Yes, even though there's no actual law against eating while driving. If you're taking your hands off the wheel or your eyes off the road then your driving skills are being affected.
And speaking of taking your hands off the wheel read why doing makeup while driving is a no-no (and whether driving in heels is too).
Fined for eating while driving in Australia
While there's no law against eating while driving, there are plenty of laws that prohibit dangerous driving in one form or another.
In NSW for instance, road rule 297(1) states 'a driver must not drive a vehicle unless the driver has proper control of the vehicle'. And in Queensland negligent driving could cost you $4000 and result in a disqualification period.
Speaking of the cornflakes we mentioned earlier, one happy snacker in WA was caught eating cereal and driving on camera. Cereal is a convenience food, but it takes real focus eating the stuff. For one, you need a hand to hold your bowl and the other to hold your spoon. It's a 'look mum, no hands on the steering wheel' situation. That's what this young driver was doing and as a result she was using her knees to drive.
Although she miraculously didn't cause any accidents she was fined $300 and given a 3 demerit point penalty for driving without due care and attention.
The rules tend to differ slightly in each state and territory, so get to know which laws apply to you.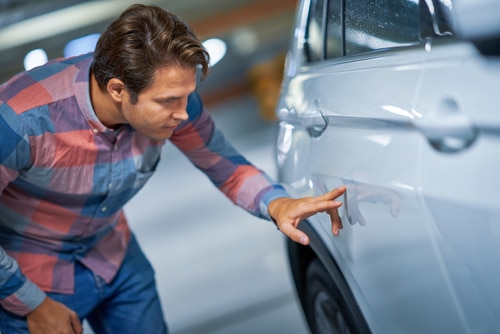 Car insurance for a soft landing
If you're behind the wheel and you're starving, find a safe place to pull over and eat. You'll be amazed at what a big difference a small act like this may make to your life and the lives of those you love. Another way to give yourself peace of mind is having comprehensive car insurance.
Not only will your plan help cover the costs of repair or replacement for theft, accident or damage, you'll also get up to $20 million for legal liability (though not if you drive negligently). Plus, at the time of writing, you can add on roadside assistance for just $89/year. T&Cs apply.