With much-higher petrol costs making the average Aussie feel the pinch (despite the fuel excise cut), fuel consumption has become a hot topic. If you're driving one of the most fuel efficient cars in Australia – or thinking of switching – you could be saving a pretty penny on your bowser bills.
Driving a car like one of the below instead of, say, a very thirsty Jeep could save you as much as 50% on your petrol bill. Even if you only save 20%, that's still a huge amount over five years.
Plus, you'll be helping the planet as you do it.
From petrol to diesel, SUV to hatchback and electric to hybrid, here are some of the most fuel efficient cars in Australia and their stated consumption rate.
Most fuel efficient petrol cars
If you're sticking to the traditional petrol car, you have plenty of choices which won't break the bank to run. From nippy hatchbacks to spacious sedans, below are some of the most fuel efficient petrol cars in Australia.
Just remember that the fuel consumption you get might be different, depending on your driving habits and how you use the car (e.g. highways vs suburban roads):
Ford Fiesta 1.0l EcoBoost – 3.5l/100km
Skoda Fabia – 4.2l/100lm
Toyota Aygo – 4.4l/100km
Hyundai i30 1.0l Turbo – 4.5l/100km
Volkswagen Up – 4.9l/100km
Suzuki Swift 1.2 – 5l/100km
If you're more of a diesel car person, you're not stuck for choice there either.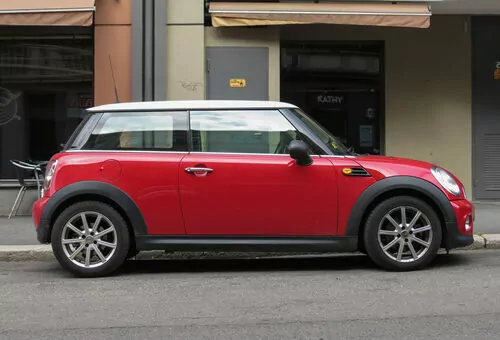 Most fuel efficient diesel cars
Diesel cars have long been a popular alternative to petrol cars. They're typically more fuel efficient than cars with petrol engines, but don't let you down when it comes to power. That's why you see so many utes and SUVs with diesel engines.
Some of the most fuel efficient cars in Australia which run on good old diesel include:
VW Golf 2.0 TDI – 3.4l/100km
Mini Cooper D – 3.5l/100km
Citroen C4 Cactus 1.5 – 3.8l/100km
Hyundai i30 CRDI 1.6 – 3.9l/100km
Renault Clio 1.5 dCi – 4.3l/100km
Finally, we also know that not everyone who wants to save cash on petrol is only interested in driving small cars or vehicles with small engines. Sometimes, you just need an SUV to get where you want to go. And that doesn't necessarily mean you have to break the bank when it comes to fuel costs.
4x4s, utes, and SUVs with low petrol consumption
It's well known that 4x4s and SUVs tend to be petrol guzzlers. They often have big engines and are designed to tow caravans (read tips for towing a trailer) or go offroad in tricky conditions.
While they're well-suited to that, they're not necessarily the best choice for someone wanting to save money on fuel while they're doing the school run, going grocery shopping, and whizzing around the suburbs.
However, there are one or two that manage to be fairly fuel efficient and are also suitable for dirt roads or big groups of people. Or just someone who doesn't fancy a small hatchback.
Peugeot 2008 1.2 Puretech – 4.6l/100km
Volkswagen T-Cross 1.5l – 5.2l/100km
Volvo XC60 2.0l (diesel) – 5.3/100km
Ford Ranger 2.0l – approx. 6.9l/100km (dependent on exact model)
We know electric and hybrid cars will have better fuel consumption, obviously – but exactly how much better? Find out below.
Electric and hybrid cars
Hybrid cars and electric cars… You'll never beat these in terms of petrol consumption, so they definitely take top honours when it comes to the most fuel efficient cars in Australia.
Some of the top-performing hybrid cars in Australia include:
Suzuki Ignis 2.5 Dualjet Hybrid – 4.5l/100km
Toyota Yaris Cross 1.5 – 3.7l/100km
Honda Jazz 1.5 Hybrid – 3.9l/100km
Lastly, electric cars don't consume any petrol at all. But they (and even hybrid cars) aren't necessarily the right choice for everybody.
If you're on the fence about whether you should make the jump to a "green" car, here are some articles you might find useful:
Still looking for more general tips on how to reduce your spend at the bowser? Read our 'How to save on fuel' article.
Insurance for your car
Hopefully, you now have a good idea of a range of cars that could save you some money on fuel costs. If you're in the market for a new car, considering ongoing monthly costs is always important – after all, you'll probably drive the vehicle for at least a few years.
Another ongoing car cost is insurance. Shopping around for comprehensive car insurance can make a big difference to the monthly budget, as well as your peace of mind that you won't be left with a huge bill to pay if you did have an accident.
Why not get a quote from PD Insurance for affordable, straightforward car insurance to suit your needs? Just click below!