During the early stages of the COVID pandemic, there was a surge of people who wanted to foster a dog or cat. And why not? With more of us working from home, travelling less, and even scaling back on our hobbies, we had extra time and love to share with needy animals.
But as we slowly start to gain control over the pandemic, the need for foster homes for shelter animals still persists. In fact, there have been reports that post-covid, there's a greater need for willing people to foster a dog or cat – or maybe even more than one.
There's no better feeling than helping animals in need. So here's what you need to know about the fostering process and whether it could be an option for you.
What does fostering a dog or cat entail?
Animal foster parents are the people who take in homeless animals for a temporary period. They then usually work alongside a shelter or organisation to help rehome the animals to their fur-ever parents.
The degree to which you're involved in the rehoming depends entirely upon the organisaton you're working with. However, for many shelters, foster parents are a crucial part of the support network for this process.
Why might a dog or cat need to go into foster care rather than a shelter? It could be for many reasons, including:
They're not coping with the shelter setting and lack of human attention
They have behavioural issues which an experienced foster carer can help address
Animals who are poorly socialised or aggressive may not be suitable for life in some shelters. E.g. a shelter with both dogs and cats, or ones where cats share a communal area.
The animal has been overlooked for some time. Having a foster parent improve their chances of finding a home
The shelter is at capacity
Again, these are just some reasons why an animal might need a foster home rather than a shelter. There are many reasons that lead them into having to leave their original home (e.g. a neighbour saw the signs of animal abuse and reported it) but we won't go into these in this piece.
So, what are the pros and cons of volunteering to foster a dog or cat?
The pros of fostering a dog or cat
As a foster parent, you can make a real difference to the lives of lots of different dogs and cats. You are there to help provide a safe space for animals who really need it.
Foster families are often used to save animals who are scared, isolated and depressed, or recovering from surgery or medical issues. They could also be too young to be adopted, or elderly and needing to live out their days in a loving environment.
By providing a secure and safe space for abandoned animals to learn and grow, you also play a vital role in making them easier to home. Think about it – a dog or cat who has spent the last few months in a loving home is likely to be more trusting, friendly, obedient, and well-adjusted than one who has been in a shelter.
Plus, taking lots of cute photos while they're with you is an often-underrated contribution. Due to the rise of social media, animals are often considered initially based on their photos. So, brush up on your pet photography skills if you're thinking of becoming a furry foster parent.
Overall, it's a very rewarding experience and allows you to enjoy the company of an animal without needing to make a lifelong commitment.
What are the drawbacks of being a foster parent?
There are very few drawbacks to fostering a dog or cat, except for one: saying goodbye.
We all know it's easy to form close bonds with pets. As a foster parent, it can be really hard when the time comes to move your foster dog or cat into their forever home. However, you can take heart in knowing you've helped to facilitate a lifetime of happiness for a deserving animal.
And of course, you should keep in mind if you foster a dog or cat, you run the risk of a becoming a foster fail. As you've probably guessed, this is when you adopt a cat or dog because your foster pet becomes a forever pet.
Whether or not that's a drawback is debatable, though!
How do you foster a dog or cat?
There are a few avenues you can pursue if you're thinking that you might be a suitable foster parent candidate. You may want to register via the RSPCA, who have foster care programs in place for each state and territory.
Or, contact local shelters and ask if they use foster carers, and if so, how you can go about becoming one. If you prefer this approach and would like to work with independent welfare organisations, one of the best tools available is social media. Try posting in your local neighbourhood or area group to find out which welfare or rescue shelters are in need of foster parents.
A quick Google search will also bring up plenty of organisations that are in need of people to foster a dog or cat too. You can often find details about what's required and how you apply via their websites.
Here are just a few sites you can look at to get you started:
Hopefully, you'll be inundated with replies!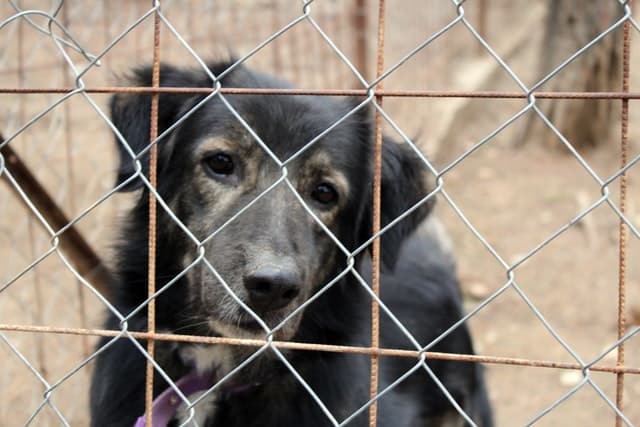 What about bills and pet insurance?
What are your costs like when fostering a dog or other animal? Most of them don't have insurance, simply because of the admin associated with cancelling/transferring policies as and when animals are rehomed.
That said, most shelters will still be responsible for vet bills. They usually have a preferred vet you can take your foster animal to if something goes awry. This is often because certain vets give shelters preferential rates or allow payment terms.
Depending on who you foster from, you may or may not be responsible for items like food. If you can cover the cost of feeding the animal, you alleviate pressure on the shelter. If not, don't let this deter you from offering a helping hand. Many of the organisations cover all costs in return for you providing the pet a loving, temporary home.
If you do fall in love and bring home an adopted dog or cat, make sure you get pet insurance. After all, they deserve the best of everything now they're in their forever home. And that includes care-based medical decisions, rather than finances-based ones.
Your thoughts on being a cat or dog foster parent
Have you fostered animals before? Tell us your stories and share photos and updates on our Facebook page.