It's Easter! Tis the season for hot cross buns, family gatherings, and pets. The only thing as good as making happy memories is taking snapshots to remember them by. And of course, pets are the perfect subject matter. So, here are six cat and dog photography tips for your Easter Instagram post.
1. Set the scene for cat and dog photography
Playtime for your dogs and cats is a good time to whip that camera out.
If you're ready for a challenge, you can get some super cute shots in during playtime. But if not, take them just after a good play session. Once your pup or kitty has wound down, they'll be content and calm. Playing and exercising beforehand is a sure way to bring out that gorgeous happy glow for your pet photos.
As is heading to their favourite spot – it's an almost guaranteed way to get that seriously happy smile.
Tip: Aim for a relaxed, pampered, and much-adored look as opposed to a high-energy pup-arazzi approach.
2. Take advantage of "golden hour"
The best light for cat and dog photography is, of course, sunlight. You don't want that bright glare of the Aussie sun though. Try to plan your shoot for when golden hour hits; normally late afternoon before sunset when the light is soft and glowing. Or just after sunrise, if you're brave enough to roll out of bed early.
If your pet photography plans are rained out, head inside and use a gentle lamp for ambient light. Just don't shine it directly at your pet. They have better eyesight than us humans and a light shining at them can hurt their eyes.
Remember to turn off the flash. Skittish pets might be startled, firstly. But it could also hurt their retina. And who wants that weird red-eye to appear in their happy Easter photos? Maybe save it for Halloween…
Tip: Avoid shooting at midday when the sun's directly overhead. Not only is it too hot to be pleasant, but direct light is too harsh for amazing photos.
3. Use the correct camera settings
If you're using a proper camera and not a phone, you've got to know how to set it up right for good results!
Experts recommend a wide aperture, single point focus and fast shutter speed. This is because pets move around. Fast, sometimes. These settings help to capture movement without blur, and will get you a perfect freeze-frame of your pet doing something cute.
If you're using your phone for your dog photography session or pampered cat photoshoot, switch off the sound to minimise distractions. Some phones even have "pro" modes where you can adjust the settings and see the results in real time.
Keep the angle of your camera at your pet's eye level. After all, the eyes are the window to the soul. Take tons of pictures, and choose your favourite ones. This is one of those cases where 'the more the merrier' really is the golden rule.
Tip: Ask a friend or family member to help out. Give them treats, toys, and other things to reward your pet and get their attention. Now you can focus on the important matter of taking photos while they help set up that perfect pose.
4. Best Easter props for cat and dog photography
It's Easter cat and dog photography we're talking about, so bring in some props and décor to really get into the Easter spirit.
But no Easter eggs. They're toxic to pets, and that's a certain way to spoil a celebration. Read our article on chocolate toxicity in dogs and cats to find out more about why those Easter choccies aren't pet-friendly.
Pet props aplenty
Here are some safe ideas for props that will help you achieve that cute Easter look:
Squeaking toy – the ultimate dog photography tool! Your photoshoot assistant can use a squeaking toy to grab your dog's attention. While you can try this with cats, they tend to respond better to movement than sounds. So wave your hand or do a little jig for the kitties, and squeak away for the dogs.
Decorations – the subject's already perfect, but the right backdrop makes all the difference for pet photography. Streamers, balloons, plants and flowers, fairy lights and even plush Easter-themed toys can really set the scene. If you have some bubbles, you can get your assistant to blow them as you snap photos for something different.
Dress-up – a bright handkerchief as a necktie can look suuuuper cute for your cat and dog photography day. So could a pair of bunny ears, if you have a tolerant pet. But be sure to remove them as soon as your photoshoot is done. Read our article on dress up your pet day to find out why dress up isn't always a great idea.
Gift box – if you have a puppy or kitten, or just a small pet, sit them into an Easter-themed gift box for a couple of photos. Adorable!
Tip: Your best prop? Patience. If your pet isn't appreciating all the dressing up or posing, switch to a more natural approach. You can always use some Photoshop skills to edit in an Easter prop afterwards. Also, make sure your pet doesn't eat any of the decorative items.
5. Take photos of dogs and cats with people
The bond between pets and people is one of the best things to document. Not just at Easter, but all the time. Here are some ways to capture that love:
Hug your pet – get involved in some snuggle time with your dog or cat, as long as they're the cuddly type. Set up your camera, then ask a friend or family to snap away. Or use a remote shutter. Or even a timer.
Tricks – have a pet who's got skills? Show them off on camera! A high-five, sit, jump, or other party trick can be super cute. You can even try and synchronise some of the moves with your pet.
Rock some shoes – or slippers, to be more precise. Bag yourself some seriously cute Easter-themed slippers, pop them on, and take a snapshot of your pet sitting between your feet.
Tip: Everyone takes better photos when they're happy. So get yourself into a great mood before you join the photoshoot. Your dog or cat won't want you ruining their photos with a grumpy face, anyway.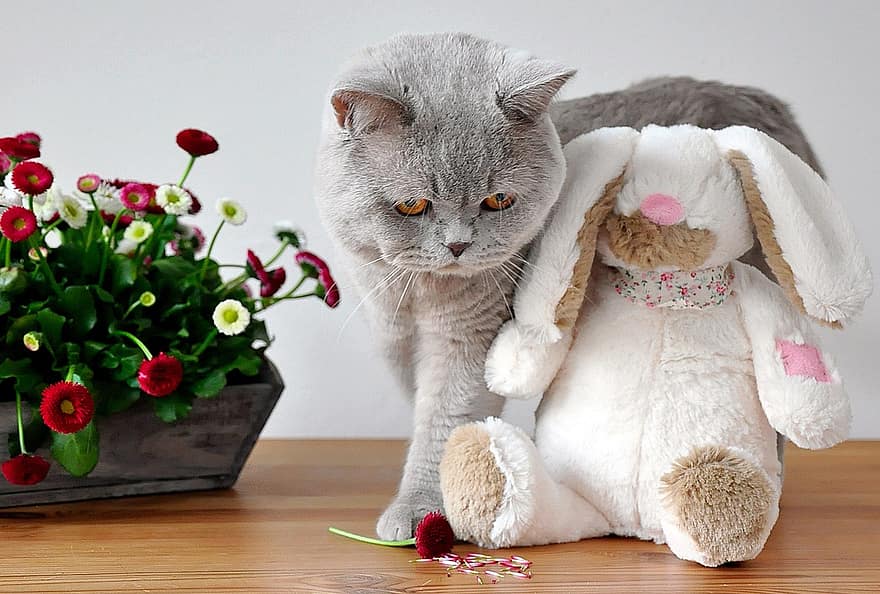 6. Treats are key to good cat and dog photography
Three, two, one and action! Pets know how loved they are, and it certainly shines through in the lens. But a few treats never harmed anyone. We're sure you've been bribed into doing something with a promise of chocolate or a homecooked meal. Keep your pet's favourite treats on hand and be sure to give them lots of praise during the shoot too.
And why not treat your pet to pet insurance this Easter too? PD Insurance offers cat insurance plans and dog insurance plans at a reasonable price. If you know you're doing the best you can to keep your beloved pet safe and protected, you'll feel happier too.
Cat and dog photography – over to you
We'd love to see your photography skills this Easter, and hear your best tips to get those pet portraits.
Post your snaps on our Facebook page and share your photo tricks in the comments.