Do you have a puppy-shaped hole in your life? Inviting a dog to be part of your family is exciting, but it can also be challenging. Hence the need for this pawsome dog adoption checklist (and its fur sister, 'Bringing home and adopted dog: What you need').
Dogs are complex pack animals and they need lots of love, companionship and exercise. They also need respect, structure and routine to feel happy and safe.
There's no doubting it's a big decision, so we put together this guide to help you choose, and care for your new pup. So you reap the rewards of living long, happy lives together.
Dog adoption checklist: Dogs are for life
When you're considering a dog, it's important to remember it's a long-term commitment, much like having a baby. Dogs are for life, (not just lockdown) – as the new saying goes. The average lifespan for a dog is around 11 years.
However, some dogs can live much longer – sometimes into their mid-20's, with smaller breeds living longer than bigger breeds.
This means your new fur-baby will be probably be a part of your life during different life-stages, house moves, and/or multiple job or career changes. This include fluctuations in earning potential and other financial commitments that come and go.
So let's look at what a dog will cost you..
Key costs
You'll need to invest in your dog's health (both mental and physical) and their training and education over their lifetime. In fact, research has found that a dog costs the average pet parent $1627 a year
Can you afford a dog? A responsible pet owner should be paying for:
Registration and microchipping fees
Food and shelter
Vet and general health care
Day care while you work or full-time care while you travel.
Pet insurance (see our dog insurance plans here)

And that is only the beginning. Check out our blog article on the real price of pet parenting.
So, before you head down to the shelter to adopt, take a realistic look at how you'll cope with a new puppy in your life, and whether you're ready to make it work.
Be honest with yourself
Of course, you can't plan for everything but you can think of the possibilities. For example, what happens if your new dog causes a lot of damage to your house or yard?
Did you know a puppy takes a TON of training to learn to go to the toilet outside, behave around the house, listen to commands, sleep on their own (if you prefer), and so on?
As part of ticking off your dog adoption checklist, ask yourself some hard questions. And be brutally honest with the answers:
Why do you want a dog?
What are your needs and expectations?
Will a dog satisfy those needs and expectations?
How much work are you willing to put in?
What is your plan B if it doesn't work out?

If you've been completely honest with yourself and you know you're ready to commit to being a doggie-parent, then keep reading. If not, then maybe you're not ready (or you're better suited to a different pet). And that's okay! Better to know now than later.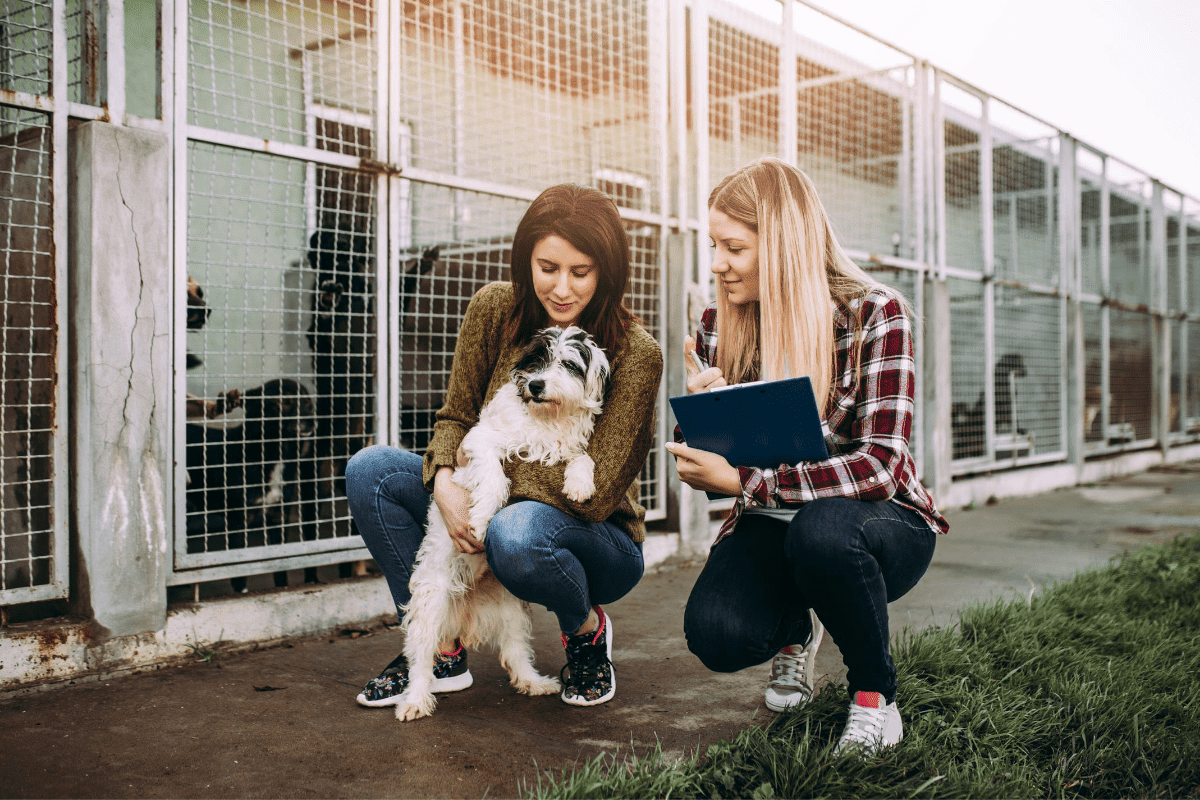 What to look for when adopting a dog
Many would-be dog parents have soft spot for particular breeds because they're fashionable or look a certain way (fierce or fluffy and cute). But many trainers warn against choosing a pet based solely on looks or emotion.
Instead, they recommend you make your choice based on how your lifestyle and personality will match your potential new dog's energy and temperament.
For example, an energetic large dog who needs space to run and burn off energy won't be suitable for a small apartment. Similarly, a hyperactive, adolescent dog is not a good choice for an older person or someone who works full-time and lives alone.
Just as a fearful, traumatised dog is probably not a good choice for a family with young children and/or lots of other pets.
As well as the qualities you want, ask yourself what you don't want in a dog. This will help you rule out different breeds. If you can, find out as much as you can about the dog before you adopt. You might also consider taking a test or speaking with a qualified trainer to see which dogs will match you best.
While we recommend adoption, if you decide to approach a breeder, Pedigree has a great dog breed selector which might give you some direction.
And – importantly – you'll need to make sure you avoid puppy scammers. There are plenty of those in New Zealand, so read our tips on how to avoid puppy scams..
Ready to move ahead with the adoption? Good luck!
Over to you – dog adoption checklist
Have you adopted a dog in the past? What tips can you give new pet parents for them to add to their dog adoption checklist? We'd love to know.