The cat café concept is fast gaining momentum in Australia and why wouldn't it – cats are the purrrfect coffee pals. If, like many others, you're mystified about what exactly a cat café is or you'd simply like to know more, look no further.
Whether you've wondered if cat cafés are for people or cats, for bringing one's own cats to visit, or a precursor to adopting cats, we'll explain. However, if you're wondering what the coffee's like, we'll leave that to you to decide!

Now, for anyone and everyone who's interested in cats and/or cat welfare, we've decided to unpack and explain some of the key cat café concepts for you here:
What is a cat café?
Quite simply, cat cafés are places for humankind to spend some time with the furrier kind. People come to these establishments to learn about, interact with (though often petting isn't allowed unless a cat comes to you) and sometimes even adopt cats.
If, however, you were hoping to take your own cat on an outing to a cat café, this generally isn't done. People go to cat cafés to visit the cats who hang out there already.
Read about training your cat to walk on a leash for some open-air outing options if you were hoping to BYO cat. Especially during lockdown, having your cat join you for walks might be a fun low-key way to spend time together. Perhaps walk past a cat cafe and grab a coffee while you're on route.
Cat cafés generate the funds to operate either by charging a visitors fee, often charged hourly, and/or through the items purchased off their menu. In many cases, they partner with an animal welfare organisation so if you and a cat connect you can adopt them and make them your furever friend.
How did cat cafés start?
The cat café concept only starting to garner mainstream attention in the past decade or so. The first known cat café was opened in 1998 in Taipei City in northern Taiwan. The concept is often credited to Japan because this is where the concept really started to snowball.
The first cat café in Japan opened in 2004 in Osaka and today Japan has more cat cafes than anywhere else.
Recently, COVID has highlighted the need for the cat café. More and more people seek the comfort of pets but aren't ready for the commitment. Cat cafés offer animal lovers a way to engage with cats, reduce loneliness and boost wellness. Speaking of wellness, read why sleeping with your cat is mutually beneficial.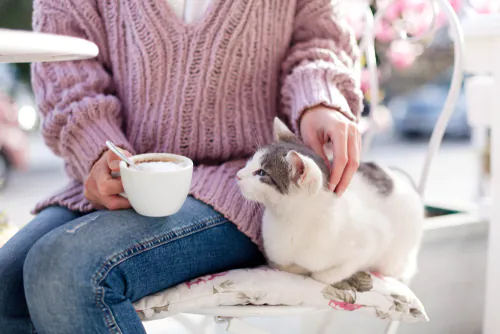 Finding a cat café in Australia
While local cat cafés may be having some downtime during lockdown, we expect they'll nevertheless continue to soar in popularity. Japan is living proof, with no fewer than 150 cat cafés last time we checked. Currently, there are about 20 in the UK and a whopping 120 across the US.
While we mightn't have as many as Japan or the US yet, cat cafés in Australia are going strong. Here are just a few you can visit to get you started:
Remember that this isn't the final word, there are heaps more Aussie cat cafés you can Google search for. Great places to find your potential favourite are social media, community groups and good old fashioned word of mouth.
Who knows, maybe the cat of your dreams is waiting to meet you at a cat café!
Cat insurance for a soft landing
Besides a furever home, the next best gift to give your cat is cat insurance. Cats may seem quite independent and most times they do land on their feet, but even they need a bit of TLC now and again.
From vet visits to unexpected surgery and hospital visits, there's pet insurance cover to suit your pocket and your pawsome friend. What are you waiting for?