What's better than tucking into some good dog or cat books by the poolside this summer? Picture it. Sunglasses, a tall glass of something cool, a cool breeze on sun-dappled skin and your nose deep between the pages of a pet-themed book.
Because if we've learned anything from the past couple of pandemic years, it's the loveliness of slowing things down and enjoying the simpler things in life.
Whether it's a Kindle or a paperback, follow your furry protagonists as their stories unfold into heartwarming, tear-jerking and nail-biting scenarios. It's the ultimate escape from the office, the laptop, the fast pace of everyday modern life and a relaxed entry into summer life and festivities.
Whether you're more of a cat person or a dog person, there's something on this holiday reading list to tickle your fancy.
Dog and cat books for your holiday reading list
Whether you're a fan of fiction or true life, fear not. Between the pages of these novels or real-life stories you'll find what you're after. So settle in, put a pot of tea on and grab a cookie.
Oh yes, and if you're wondering how to keep your cat or dog happy, or for that matter your kids while you're reading… For cats, read about cat TV (they totally love it) and check out this dog TV video for dogs.
But best of all, your kids can literally have an entire DIY holiday with these dog and cat art themed ideas.
Now where were we…? Ah yes, back to the top dogs' list of cat books and dog books for animal lovers…
Fictional cat books and dog books
If you're after an invented narrative straight from the author's imagination, then this is your holiday reading go-to. If you're after true-life stories scroll a bit further.
But fur-st, here's your fictional list of ultimate dog and cat books:
1. A Dog's Purpose (W. Bruce Cameron)
'A Dog's Purpose' is narrated from the dog's perspective. Or rather from the perspective of the dog's soul. As the story unfolds the dog's soul experiences several lifetimes with various different owners, each with differing lives.
As you follow the dog's soul through the reincarnations and each life experience, you're able to ponder the very meaning of life itself. And at the same time celebrate the powerful bond we humans share with our dogs. Because as the history of dogs shows, dogs were the first animal we ever domesticated.
If you get addicted the book has a sequel called 'A Dog's Journey'. Or if you'd like to get stuck into watching the film as well, check out the trailer here:
2. The Art of Racing in the Rain (Garth Stein)
The Art of Racing in the Rain is another novel written from the perspective of the furry protagonist – this time a Golden Retriever named Enzo. Enzo silently observes all his family's trials and tribulations. His objective? Keeping them happy no matter what it takes.
While Enzo may not be able to speak to his human counterparts, his keen sense of observation nevertheless gives the reader meaningful insights into their lives. And because there's no dialogue between him and them, instead you end up focusing on nuanced details that in the course of day-to-day life could easily go unnoticed.
Enzo's strong emotional attachment to his humans is what drives his heroic actions. He experiences his feelings as though they're human feelings and this gives him a unique insight that he uses to overcome obstacles to keep them together.
The story unfolds as Enzo is nearing the end of his life. It's a heartwarming and heartbreaking tale; so if you're after a tear-jerker go on and haul out the tissues. And the hot chocolate. And a cookie while you're at it. 😊
As with the first book on our list, this one has also been made into a film. Check out the trailer here:
3. The Travelling Cat Chronicles (Hiro Arikawa)
Nana is a stray cat who's rescued by Satoru after being knocked by a car. Satoru names Nana after na, the number seven in Japanese, which is shaped like her tail. And so the two become companions.
As the book unravels, they embark on a road trip that seems to be a recollection of Satoru's history. Nana is unclear on where the road trip is leading them or why and the reader is also kept in suspense. (On the topic of pets and road trips, read about pet friendly accommodation in WA and travelling with pets.)
During their journey, Nana meets people who have a special place in Satoru's life. An old friend whose wife (a cat lover herself) has recently left him and is in mourning. A couple who own a pet-friendly B&B. A dog who sort of converts Nana into a dog appreciator…
The Travelling Cat Chronicles is a heartfelt cat book and a true celebration of the love we can share with our companion animals. It's no wonder it's a bestseller.
4. Pug Actually (Matt Dunn)
They say you should never judge a book by its cover but what about the name? Because it's hard to resist a pun this good – especially one about a pug. Also, not only is the name a witty one, but it so transpires that the story is much about finding love, actually.
Doug the Pug (off of puns and onto rhymes, sorry for all the wordplay) wants his single mum to find her true love. And as it happens she already has but just doesn't realise it.
Julie (Doug's mum) and her best friend Tom are a match made in heaven, and while Doug knows this Julie is completely in the dark. If you're after a paperback romcom, eat your heart out on this one. Just add a bar of chocolate while you read Pug Actually and you're away!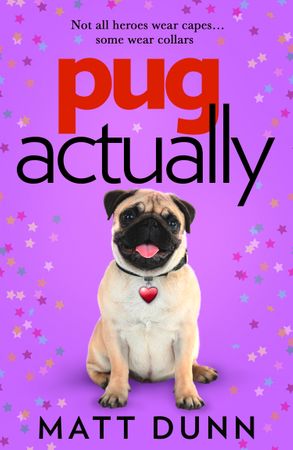 Non-fiction canine and cat books
For those who love fact rather than fiction, here's a list of true-life pet themed tails.
1. When Harry Met Minnie (Martha Teichner)
As a dog owner you may've noticed how your furry canine friend has an innate way of bringing people together. You've probably found yourself contentedly chatting to strangers at parks and beaches simply because your dogs crossed paths. This is what this book is about, and more.
This book is the story of four paths meeting at a crossroads. Martha and Carol are both pet mums, to Bull Terriers Minnie and Harry. The two dogs bring these ladies together at a critical time in Carol's life. She has terminal cancer and one of the important things she still needs to do is find a new home for Harry.
This deeply moving story shows how much of an impact our companion pets have in our lives. While it can sometimes be hard to describe how meaningful this bond is, it's books like these that do the relationship justice.
And need we mention 'When Harry met Minnie' is simply another great film-inspired naming parody.
2. Marley and Me (John Grogan)
In many ways the story of Marley and Me could easily be analogous to parenting in general. Yes it can be the hardest thing you've ever accomplished. And yes, it teaches you the meaning of life through lessons of unconditional love.
It's a story about a young carefree couple whose life is turned upside down with the arrival of their Labrador Retriever puppy, Marley. Marley eats everything. You name it, dry walls, fine jewellery, furniture… the list goes on. He gets expelled from puppy training school, cast in a film, shuts down a public beach and much much more.
He's also present through some of the most gripping parts of the couple's life. From pregnancy and miscarriage to successful birth and parenthood.
After you've read the book, get some popcorn popping and watch the movie version too. Check out the trailer here:
Pet insurance for the purrfect story
We know that the leading cat or dog isn't any of those on the pages of these dog and cat books, but rather your very own furkid. Make sure that every page of their story is a happy and safe one by giving them a pet insurance plan.
Pet insurance costs very little, but your pet is priceless. And when you need to get them medical attention after an accident or illness, you won't have to foot the bills alone, your pet plan will have you covered. Find out all about our cat insurance and dog insurance plans.