It's late spring slash early summer – the best time of year to holiday in WA (if you're not currently locked out, that is… thanks COVID). And since our fur-legged friends have kept us going through the best and the worst of lockdowns and pandemic panic, what better than to take a road trip with them. Plus there's great pet-friendly accommodation in WA; there's many a tail-wagging time to be had!
Get ready to swim in the sea, go for long drives and simply enjoy the sights and sounds of the world – with pets in tow of course. Pack your trunk and buckle up, as you and your furry (or feathery/scaly) friends go for a road trip.
WA, here we come!
Pet Friendly Accommodation in WA
When booking pet-friendly accommodation in WA, always be sure to let them know your pet will be accompanying you. Even the most pet-friendly stays request pets by appointment (and sometimes charge a small extra fee).
In this article we share these pet friendly accommodation options in WA:
Caravan and camping sites
Luxury forest retreat (adults only)
Self catering multi-tiered forest timber house
Large open-plan seaside house
Be sure to also read safety tips for pets in cars over Christmas and if you're looking for accommodation in WA without pets, check out these west coast road trip ideas.
Now without further ado, here are four favourite picks:
Ningaloo caravan and camping sites
If you're planning to do some caravan travel in Australia, Ningaloo caravan and campsite in Exmouth welcomes furry friends. And the human kids will love the outdoor play area recreation room made from a beautifully restored barn.
Onsite facilities also include a 25-meter flow-shaped swimming pool with alfresco patios and an award-winning restaurant. Entertainment areas are wheelchair friendly and there's also a wheelchair accessible chalet (though no dogs can stay in the chalet). However, here are some other pet friendly accessible accommodation options beyond WA.
During your stay there's lots to see and do like driving through Cape Range National Park, snorkelling in Turquoise Bay and swimming with whale sharks.
Ningaloo has 250 powered caravan/camping sites and 40 unpowered sites. While it's great pet friendly accommodation in WA there's limited space for furry friends so book ahead to avoid disappointment.
Jarrah Grove forest retreat
Jarrah Grove forest retreat in Margaret River is run by Lee and Sam, who moved to Australia from the UK in 2011. After discovering how difficult it was to find a holiday stay that welcomed their dogs they made their own!
Lee and Sam live onsite with their dogs Bella and Sasha. They aim to make your stay a welcome one and invite you to bring your furry friends along (dogs only). This delightful luxury forest getaway comprises of fully equipped one-roomed chalets. Each chalet opens onto a deck that looks out over the forest filled with idyllic walks.
In addition to the deep indoor bathtub, your chalet comes with its own outdoor tub, barbeque area and alfresco seating. Did we mention the chalet has a king-size luxury mattress complete with luxury bed linen and pillows?! This adults only luxury retreat is the perfect romantic getaway for couples and their pawsome kids.
Be sure to book well in advance as there are just two chalets (and yes you can book both).
Tall Timbers at Youngs

Tall timbers is quite literally a tall multi-story timber house. It's ideal for a big family, couples weekend, girls/guys trip or even a quiet student graduation holiday getaway. Situated between Denmark and Albany the house comes equipped with all home comforts, from a laundry room and entertainment system to a coffee machine.
This is truly unique pet friendly accommodation in WA! Its rustic interior décor complete with vintage cupboards and vertically cut large timber dining serves to enhance the experience of gazing out into the surrounding forest. This is the kind of holiday accommodation where you can really relax.
Retriever Retreat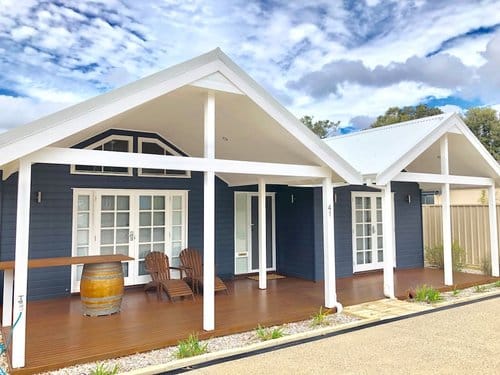 The name says it all! Retriever Retreat welcomes pets by appointment and is secured with pet safe fencing. And the large open-plan house is simply a five minute jaunt from the white sands and aquamarine waters of Dunsborough Beach. Pets can play in the manicured garden then you can all head out to explore the ocean's edge.
This beautiful three bedroom house is whitewashed with angled wooden ceilings that give the feeling of a luxury cabin by the beach. It's fully equipped with entertainment areas including a barbeque area, but if you prefer to wind down out and about, the bars and shops are a five minute stroll from your door.
Oh, and if you happen to visit in winter during the wetter season, the house offers a cozy retreat with a movie library too. You can sit back, pop some fresh popcorn and simply enjoy the pitter patter!
Pet insurance and car insurance
Be sure to have your cat insurance or dog insurance plan in place before you head away anywhere. Not only will your plan help cover costs for accidents, illness and much more, it also provides third party liability cover. For instance, let's say (for argument's sake) your pet accidentally eats the feather pillows or bites the neighbour's cat at your holiday stay, you won't have to foot the bills alone. Clever, huh?
And because we know how valued your and your pet's safety is during your road trip, be sure to add 24/7 roadside assistance to your car insurance plan. Click below now: