Easter holiday road trips are the best. Especially when you take your best pal. And by best pal, we mean your pet cat, dog or Easter rabbit 😊. Because according to our research, 26% of Australian motorists take their pets on road trips with them. Just add family, food, some super holiday destinations and off we go.
Besides, with state and territory border restrictions coming and going, a road trip might be your safest bet for interruption-free time away.
Easter holiday road trips
There are two fundamentals behind every successful road trip: servicing your car and planning your itinerary. And because this is an extra special Easter holiday, with your pet, let's add one more essential – a pretravel visit to the vet.
Servicing your car
You'll need to make sure your car is ready and able to drive well, keep you safe and not cause you grief with a car breakdown on your driving holiday. Better yet, consider taking it in for a check-up with a professional.
Our research shows that 29% of drivers are worried about being ripped off for the repair or service of their car. Fear not, we've put together this handy car servicing checklist so you'll know what to look for in a mechanic.
Because let's face it, mechanics are like dentists. Once you find the right one, you want to stick with them because they know your car (or teeth) best. And you can trust them with something that's precious. Much like vets!
Remember to check some basics at your end too, like the spare tyre and tyre change tools, in-car first aid kit, oil level, tyre pressure, lights, windscreen wipers, window and door locks, etc. Especially if you don't have your car service booked in before the trip.
While you're prepping your car for take-off, find out these simple ways to pet proof your car like a pro.
Easter holiday itinerary
Once you're out of the rat race and coasting into the countryside, consider this: no phone reception. This is a big travel consideration when you're relying on GPS.
No signal could result in driving to who knows where. Or running out of petrol, not knowing where you are and not being able to make a call for roadside assistance.
But a bit of prep with these holiday road trip hacks will help you achieve the perfect Easter getaway.
And once you've read those, here's a (non-exhaustive) Easter holiday road trip itinerary and packing prep list:
Make reservations (more about pet-friendly destinations further on…) and check them before you leave, just in case
Printed out maps with route and stop-offs marked up (because of that no-GPS risk)
Printed out emergency numbers (including vets on your route)
A spare phone or phone battery (keep it switched off unless you need it)
Portable power bank for your devices
Plenty of water and snacks (especially healthy snacks that won't spoil out of the fridge, like dried fruit, dried meat, and nuts)
Pet lead/harness, toys and snacks, and a water bowl
Kids' toys (books, board games, cards, etc)
Pre-travel vet check up
It's a good idea to have a vet check-up before your pet goes on any trip. Make sure your cat or dog's vaccination, tick, flea, and worming schedules are up to date.
You don't want any uninvited critters in the car during your road trip. Nor do you want them getting sick and needing medical treatment from a vet you're unfamiliar with.
Here's a breakdown of routine pet care to make sure your bases are covered before setting off down the driveway.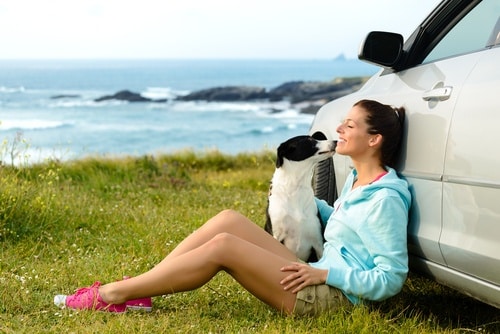 Easter road trips and pets
If travelling with pets is a regular part of your lifestyle, your cat or dog will have experience on their side. However, if this is your pet's first or longest car trip, it's advisable to start small, do some practice drives and get familiar with pet safety in cars.
In the days leading up to your Easter holiday road trip, take your pet on drives to the park, the beach or just around the block to begin with. Ideally, to fun places that your pet enjoys. Then Bella or Felix can associate car trips with a sense of positivity.
Once you and your pet are road ready, find out what else you need to pack with these tips for travelling with dogs, cats and horses.
And remember to read up on pets in cars and rules of the road, which differ between states and territories.
Pet friendly accommodation
From caravan parks through bed and breakfasts and on to luxury accommodation, finding pet friendly accommodation can be time consuming. Unless you know where to look.
With that in mind, we've put together a list of resources for you to find your best pet-friendly holiday accommodation.
For cat mums and dads, many of the sites which say 'dog' just mean pet, so give them a go when searching for your ultimate destination.
And if you need pet-friendly accessible accommodation, read this.
Road trips with pets
Holiday car accidents and visits to the vet can take a hefty chunk out of your holiday funds. If you don't already have car insurance or pet insurance, consider how these can potentially reduce your out of pocket expenses. So too, roadside assistance – with PD Insurance member this costs only $89 a year.
Most vet bills are less than $500. But every so often they run into the thousands, if not more. If this happens on your Easter holiday it could spell disaster.
Easter holiday road trips with pets – over to you
Happy Easter egg hunting. And remember! Chocolate isn't good for dogs and cats (read up on things that can poison your pet here). Let us know about your awesome Easter holiday road trip plans in the comments below. Inspire us and other PD Insurance members 😊!