Been eyeing up a caravan or boat for local holidays with international travel off the table for the moment? Or maybe you're a dedicated equestrian who needs to tow horses. Regardless of the reason why, finding the best towing cars for your needs can sometimes feel overwhelming.
There are a lot of factors to consider in choosing a towing car. Weight, towing capacity, fuel consumption are top contenders. And these considerations don't even cover the fact that you probably need it to do double duty as a day-to-day car too.
Finding the best towing cars: what to keep in mind
When it comes to the actual towing capabilities and weights of a car, there are three main things to consider:
Towing capacity. This is the maximum weight the car can tow.
Tow ball limit. This is the maximum weight the trailer can exert directly onto the tow ball itself. It's normally around 10% of the maximum towing capacity.
Gross combination mass. This is the combined weight of the car and the trailer. The combined weight needs to be under the stated limit for your vehicle.
If you get these right, buying the best towing car for your needs is quite straightforward. But if you're new to towing, you might want to read our insider tricks for towing a trailer and reversing a trailer.
The best towing cars available in Australia
Buying a new car is exciting. If you're struggling to decide between the various SUVs and 4x4s available for towing, we don't blame you.
To make it easier, we've gathered up some of our top contenders for the best towing cars on the market in Australia at the moment.
Ford Ranger
The Ford Ranger has long been a popular choice with caravanners and horse owners. So much so that it's actually Australia's second most popular car, just behind the Toyota Hilux. It's not hard to see why. The Ford Ranger is reliable, rugged, and sensible without sacrificing comfort and good looks. And it's one of the best towing cars you could wish for.
With a towing capacity of 3500kgs and a 3.2L diesel engine, it'll have no problems towing whatever you need, wherever you need. The fuel economy comes in at 8.4L/100km which isn't the best on this list but is still completely acceptable for a powerful, large car.
The FX4 is a step up from the standard model Ford Ranger but at around the $60 000 mark, still comes in cheaper than the top-of-the-range Wildtrak. The cabin is comfortable and stylish, and the FX4 offers some cool car technology like a reversing camera, cruise control, park assist, and lane keeping aids. It also has adaptive cruise control and semi-auto parallel parking.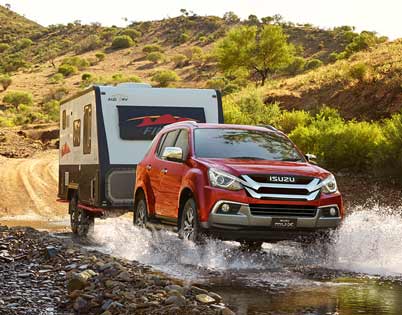 Isuzu MU-X
On the cheaper end of the scale, the Isuzu MU-X is a great choice if you want a no-fuss, no-frills experience with top-notch towing capability. While it doesn't have all the bells and whistles in the cabin that you'll find on some of the other options on this list, it comes in at about $55 000 so is definitely a pocket-friendly pick.
It'll comfortably tow 3,000kg, but comes with an impressive gross combination mass of 5,750kgs. This means you can really load that trailer up when you're packing everything but the kitchen sink for your Easter holiday road trips.
Under the hood you'll find a 3L turbo engine. And though it comes with a six-year warranty, it's generally considered to be one of the most reliable towing cars on the market. The fuel economy is good too, at 7.9L/100km. If fuel economy is important to you, you'll love our detailed fuel consumption comparison.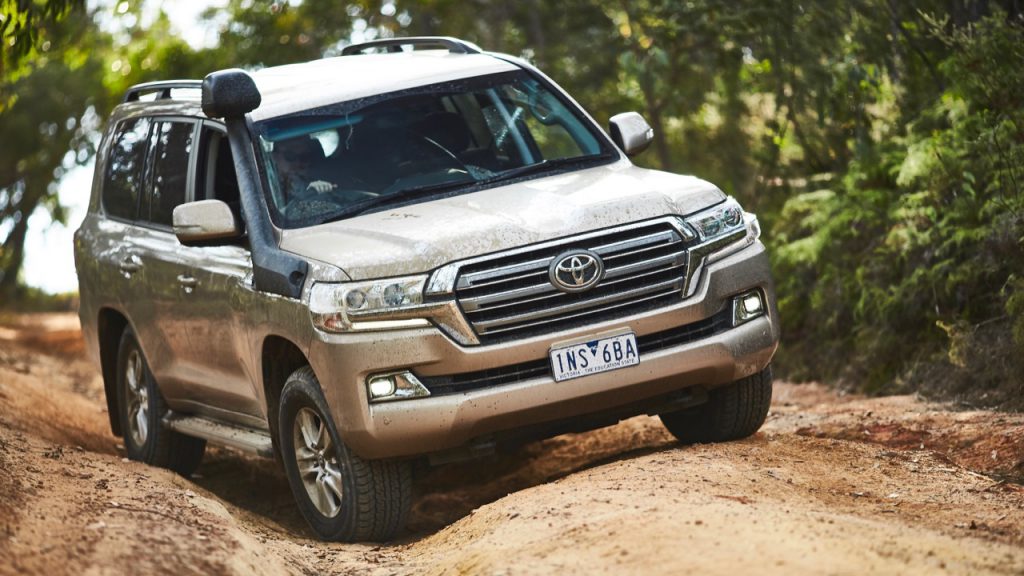 Toyota Landcruiser GXL
Once you take into consideration the 4.5L V8 engine and the publicly stated average fuel consumption of 9.5L/100km (although tests have showed it to come in significantly higher) it's clear the Landcruiser is a towing car for those who don't mind splurging.
That said, the Landcruiser GXL is an incredibly comfortable and smooth ride with enough power to satisfy even the most demanding of petrolheads. If you're travelling with a family, it's spacious too (though you'll still need our top five tips for surviving family road trips).
Importantly, it has a 3,500kg towing capacity and a gross combined mass of over 6,500kg.
So, while it comes with a high price tag, the GXL has a great reputation for a reason. If driving pleasure is important to you while you tow, this is probably your best option.
Prior to buying one of the best towing cars
Before you buy your brand spanking new towing car, why not have a look at our car buying checklist. Just so there's no buyer's regret.
And before you tick the box at the dealership, read about whether capped price servicing is worth it.
Got one of Australia's best towing cars? Insure it!
There's no use having a fancy towing car with no insurance! Taking out a car insurance policy means that should there be an accident, your trailer might not be covered but at least your beloved car will be.
Side note: you'll need trailer insurance if you want that covered too.