Congratulations on your new job! You've worked hard and it's finally paid off. Whether you've got a promotion, made that enticing career change or gone out on your own, you're hopefully now doing something you love which gives you more financial freedom, a better work/life balance… or both! But… while exciting, your new job comes with new responsibilities and it's time to think about what that means for you and your car.
Will you be driving more? Do you need extra room to carry all those important (or not so important) things with you? Maybe it's time for a well-deserved upgrade? After all, a new car is the perfect way to celebrate everything you've achieved.
In this blog, we'll help understand your options, covering everything you need to know about starting fresh with a new job and looking for a new car.
Comfort And Safety In Your New Car
Whether your new job means you'll be spending more time behind the wheel or not, your comfort and safety should be at the top of your list when considering a new car.
There's nothing worse than dreading your ride to/from work (and spending more hours at the office just to avoid the commute and the traffic). And you don't want to become another road accident statistic.
Safety technology varies depending on your style, preferences and budget, but we believe these things are an absolute minimum for anyone who may be considering buying a new car:
Reverse parking sensors and camera
Electronic stability control (ESC)
Antilock braking systems (ABS)
Blind spot monitoring (BSM)
Lane Support Systems (LSS) aka Lane Keep Assist (LKA)
Adaptive Cruise Control (ACC) that adapts speed to maintain a safe traveling distance with the car ahead
Driver fatigue detection that detects your alertness and sounds alarms on long journeys to remind you to rest
Front, side and curtain airbags
Roll avoidance technology
Tyre pressure monitoring system
Five star ANCAP safety rating (with the latest date stamp)
Seems like a long list – but with advancements in new car technology, this long list is often included in even the base models for most cars on the market today.
Make An Impression With These Stylish Cars For Women
Yes, everyone's taste in cars is different. So, whether you're after a bit of sporty luxury, a touch of European class or something spacious and practical – it's the details that make a car really stand out.
Personally, we love anything with connective tech, that integrates our cars seamlessly into our work day. Ultimately, your needs and your budget will determine what you're looking for.
We love the The Audi Q8. It's the ultimate combination of sexy styling and personalised tech. Not one but two HD touchscreens in the centre console. The car remembers your settings and greets you as you get in. Well hello!
And the charming Citroën C3 is the Mini Cooper on steroids, with practical features such as the 'Airbump' side strips to protect from wandering shopping carts and car doors. Nice! Its tailored interior makes for a more comfortable ride and accented exterior styling makes it feel unique and decidedly European.
Concerned about fuel consumption? The Mazda CX-5 has smart petrol sensors that deactivate unneeded cylinders in the 2.5L petrol engine to increase fuel economy. And when the load on the engine is increased the cylinders kick back in, so you're not left lacking. Plus, they've made some smart mods to the engine to ensure a smoother ride, and a little more power. It's a pleasure to drive. With loads of standard safety features and a body that's sure to turn heads, we think this mid-sized SUV is a go-to in affordable new SUVs.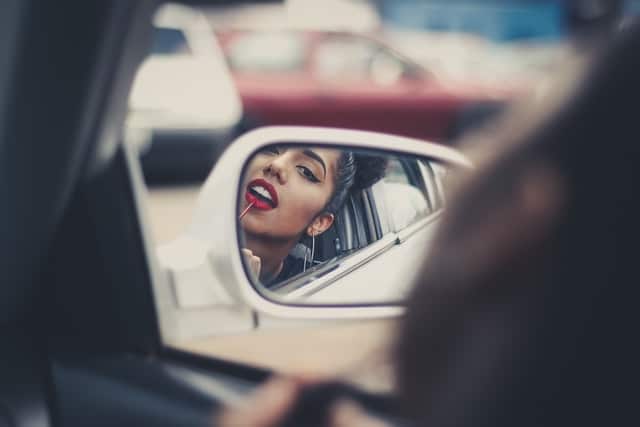 So, You Need More Space In Your Car…
Do you have equipment and promotional gear you need to haul around with you at work? Then the interior storage of your new car will be serious consideration for you. These are a list of things to consider when looking at boot space.
Obviously, the bigger the car, the bigger the boot space – but you don't necessarily have to spend the extra dosh on a bigger car. A smaller car with decent seat configuration maximises what you can fit inside.
What should you look out for?
Seats that fold flat (without the lip between the floor of the boot and the height of the seats)
A boot that isn't obstructed by side panels or seatbelts to provide maximum width
Generous space but still has room for the spare tyre beneath the boot floor
Handy bag hooks, luggage nets and a soft parcel shelf cover (that can mould to the contents of your boot unlike hard covers)
Doesn't have too high a lip from the bumper, that makes it hard to load (or if so, one that folds down)
Hands free boot closing to save your sanity (especially when you're in a rush)
A clear interior boot space winner is the Toyota Kluger. It has a massive 529L with the seats up, and 1862L with last row down (while still managing to carry 5 passengers comfortably in the cabin). And as a bonus, the Kluger will hold its value, compared to other brands in the same range. A worthy consideration when you're thinking about…
Buying A New Car, With A New Job: Car Finance
Changes to your income, including a change in employers can impact your ability to get car finance. In an ideal world, you'd plan ahead and get granted the finance you need, before you switched careers – but it doesn't always work out like that. So, what do you need to know about new job car finance?
Are you staying in the same line of work, or are you changing careers? A dramatic shift in the work type (freelancing anyone?) or field may mean you need to wait to show stable income before applying for finance. However, if you're moving firms for a promotion and more money in the same industry, it may not impact you as much.
Get a letter of recommendation from your new boss, and a guarantee of your income package from HR if possible. This might just be the guarantee of stable income you need despite your change in circumstances.
Do you have supplementary investment income? Include information from all your income sources in your application for credit.
Check your credit history. If you have any kind of bad stains on there, it will make it much harder to gain credit.
Get a quote for insurance ahead of time so you have all the facts and figures for your application. It's super easy to jump online and get a quote.
Why not search your make and model for a quick quote now.
The Best New Cars For Working Women
While there are plenty more cars we could mention, we hope we've given you some help in narrowing down your options when you hit the showroom floor ready for a test drive. At the very least, you'll be able to ask the right questions about the models to help you find the perfect new car for your new job.