Positive reinforcement dog training is becoming extremely popular. And according to research, it has a range of benefits, whereas punishment might actually harm our dogs (more on that below). Dogs certainly like it, and we do too, so it sounds woofing great!
After all, our dogs love us unconditionally and we love them too. This is why rewarding them for good behaviour instead of scolding for bad is uplifting for everyone involved. Does this perhaps suggest reward-based training for dogs has pawsitive emotional health benefits for humans too? An interesting thought which we'll leave to the researchers…
Now, let's delve into the data and understand why reward-based training techniques work.
What is positive reinforcement in dog training?
Positive reinforcement is also sometimes called reward-based training. To explain, let's compare it to lessons learnt in the classroom…
For example, have you ever had a teacher who bullies or scares you? Sure, you might get good results because you bend under the pressure to perform, but the lessons usually aren't learnt. They're just temporarily stored for a defined and limited amount of time.
As a result, you're less likely to remember the details and facts once the test's over and the results are out.
On the flipside, you're more likely to remember well into life the lessons from a beloved teacher who coached rather than scorned. And importantly you can adapt what you learn and apply it to other situations. Because you weren't parroting, you were really grasping the knowledge.
And now, the data suggests this goes for dogs too.
Why dog training using positive reinforcement is good
In 2020 a team of researchers in Portugal, led by Ana Catarina Vieira de Castro published a study on positive/negative dog training on Plos One. This is the first study of its kind, which looks at "Does training method matter? Evidence for the negative impact of aversive-based methods on companion dog welfare."
The researchers observed, recorded and analysed 92 dogs. This is where it gets exciting… Dogs trained with positive reinforcement could adapt better in situations beyond the training environment than dogs trained using negative reinforcement.
What are reward-based dog training techniques?
Reward-based dog training focuses on how you respond positively to your dog's good behaviours.
Examples can include:
Petting
Treats
Praise
Playing
I mean, who doesn't love positive reinforcement – it's a great way for owner and dog to bond (and parent and child too). Speaking of which, here are some puppy play skill buildings activities for bonding with pooch.
Negative reinforcement in dog training
On the flipside, aversive training uses a combo of 'positive punishment and negative reinforcement', which are essentially both modes of punishment.
Positive punishment is essentially punishing your dog after they do something you don't want them to do, aka spanking them when they pee on the rug. Negative reinforcement is about taking something your dog wants or likes away when they do something you don't like.
The same study we mentioned earlier found that dogs who received aversive training for some or all of their training showed the following:
Higher levels of stress behaviours
Saliva samples also showed cortisol (the stress hormone) was higher in these dogs
These dogs didn't react as well to test situations outside of the training area
Another danger with aversive training is that it's harder for your pooch to know what they're being punished for. Your pup won't necessarily make the correct association with the punishment, and they might just be confused and scared. Read 'Is my dog afraid' to recognise fearful dog behaviour.

Positive reinforcement is easy for a dog to understand. And because dogs are essentially hyper social and enjoy human companionship, rewarding them supports a mutually respectful relationship.

Read our article on the history of dogs to see why dogs love hanging around with humans so much!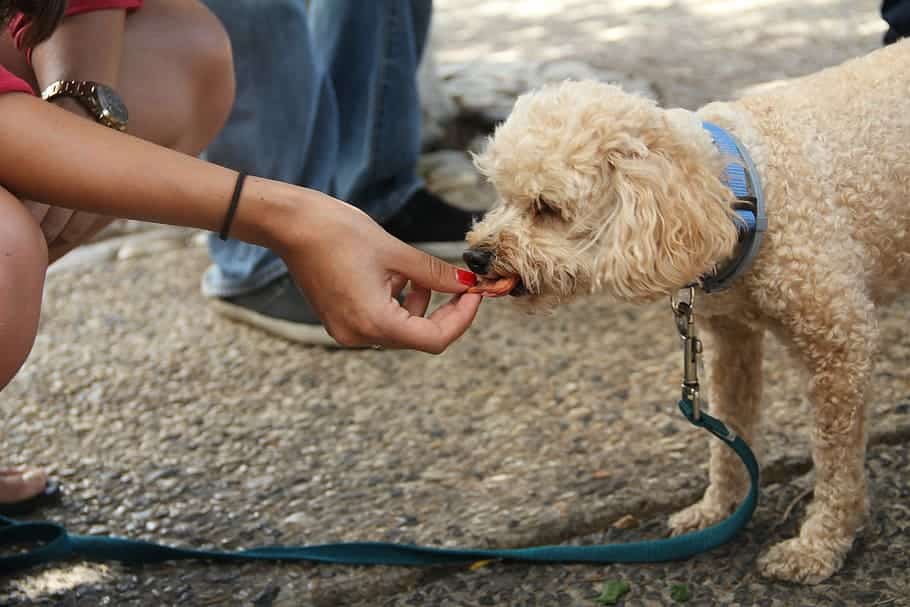 How to train your dog with positive reinforcement
Like people, dogs go through several developmental stages. There are ideal times for certain lessons, i.e., where to poop is a lesson you'll want to get in early. But the good news is, you can teach an old dog new tricks!
Which is why we've compiled these dog training articles to help you put your best paw forward:
Also, read how to find a great puppy training school. This is especially useful for teaching dogs about how to read other dogs' body language and social cues.
Dog insurance, rewarding your pup & your pocket
You can save oodles with affordable easy to use online dog insurance. From unexpected accidents to routine visits to the vet and prescription medication. Pet insurance helps cover the cost of these and more, so you can spend your well-earned dollars on treating pooch to some great rewards instead.