PD Insurance recently had the pleasure of chatting to Dr Sally Colgan, CEO of Vets Beyond Borders (VBB). Vets Beyond Borders is an Australian-based international animal charity that's recognised globally for its invaluable work in animal welfare.
Established in 2003, Vets Beyond Borders partners with animal welfare organisations around the world, deploying volunteer teams of vets, vet nurses and vet students where they're needed. It looks beyond borders and socio-economic boundaries to achieve its invaluable medical work. The organisation is working across five continents and supports vet training programs also.
Vets Beyond Borders and the pandemic
Since the pandemic, Dr Colgan says the organisation is "redefining borders". It's looked on ways to reinforce animal health and welfare within Australia. Of course, VBB continues to have an international focus in supporting their international partners, albeit remotely and online.

But COVID-19 has had the unexpected effect of bringing into focus how much work is needed on our own shores.
Vets Beyond Borders supporting partner programs
Since COVID-19 began, Vets Beyond Borders has teamed up with numerous Australian animal welfare organisations. It deploys teams of skilled veterinary volunteers to their partners as and when needed.
Dr Colgan explains that VBB works with partners to help them realise their goals, aiming to enable and empower partners' existing and/or new animal health programs. This is achieved in several ways and can include training or advice for projects in VBB's area of expertise. Or by facilitating a program via additional staffing.
"VBB's modus operandi is to support existing operations, by providing people who have the expertise on the ground," she says.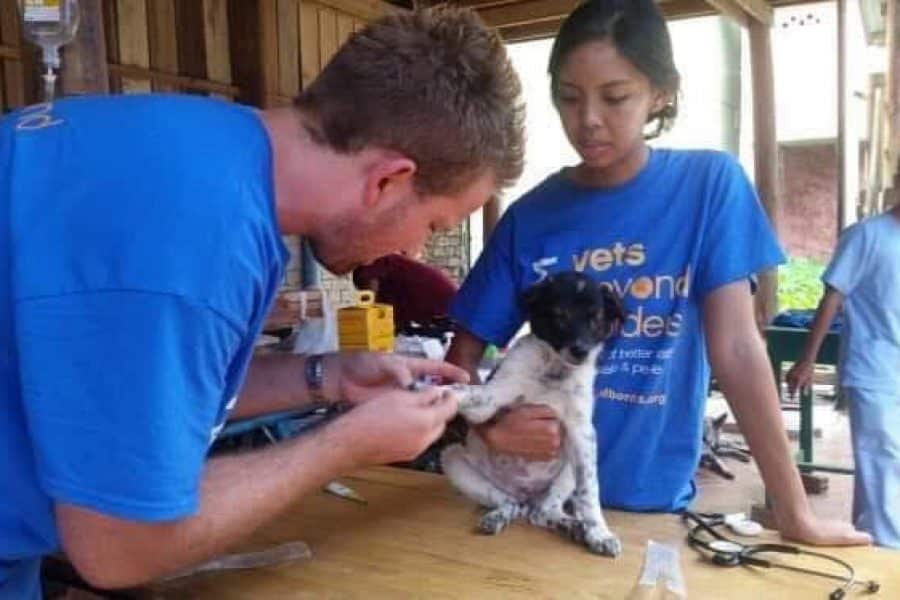 VBB's 'VetMatch' program
VBB carefully screens any volunteers and selects partner organisations based on their needs. Dr Colgan says, "Our 'VetMatch' program is about matching veterinary professionals with programs that require their particular expertise."

For instance, if VBB is helping with an animal population program, it will send veterinary surgeons and nurses to assist. Vet students also volunteer in supportive roles in these programs.

Side note: read up on whether to neuter and spay your dogs. And read our article on benefits and drawbacks when you spay and neuter your cats.
Vets Beyond Borders 'VetTrain' program and social upliftment
It's not just about working with animals though. Volunteers also educate people through sharing their knowledge with schools and in public settings with educational talks.
Through its 'VetTrain' program, VBB also provides free training workshops in regions where there's no access to ongoing professional development and education. Training local staff facilitates capacity building for VBB's partners, working toward the charity's vision of 'enabled and empowered communities around the globe that can deliver world-class One Health initiatives, to create a world of better health and welfare for animals and people'.
VBB also offers free webinars on different animal welfare topics on its website. Visit https://vetsbeyondborders.org/vbb-webinar-event/.
What's unique about VBB is the reach. The organisation connects animals and vets around the world – beyond borders. In addition, it connects foundations, communities, and leaders.
It's so prolific and dedicated to the support of animal welfare and the interconnected social welfare that stems from it that VBB has garnered some major supporters. These include the likes of The Australian Veterinary Association and Fondation Brigitte Bardot, to name only a couple.
Vet mental health
Recently we published an article on vet mental health, which focusses on some alarming figures… Australian vets are four times more likely to commit suicide than other adults.
Dr Colgan understands this is a multifactorial problem which the profession is working hard to find solutions and answers for. However, she does believe volunteering can help those in the veterinary profession feel connected to one another.
She describes the valuable and rewarding experience of being a veterinary volunteer: "There's a unique sense of fulfilment that comes with giving the gifts of your skills and your trade. Especially where they're desperately needed. It's different from day-to day practice roles because it provides us with an opportunity to use our skills and expertise where these are needed and really appreciated.
"It's an opportunity to work with like-minded people to help animals in need. It is a rewarding experience and good for the volunteer's own health. It's hard work – the days are often long and can be challenging, but at the end of the day it's great to be able to look back and feel good about what you have achieved and feel you have made a difference."

While only vets, vet nurses and vet students can volunteer with VBB, anyone can donate. It accepts donations from as little as $20 up to an amount of your choice, or a recurring amount.
Pet insurance
During our interview with Dr Colgan, her dogs join her – both popping up to say hi at the screen. Jack is a Border Collie mix she's had since he was a puppy. And Mackie is a rescue Border Collie she saved from a pound when he was one year old.
Dr Colgan shares how "initially Jack was a little annoyed by Mackie's unruly behaviour". Jack taught Mackie some of his own doggy manners and now they're good friends. She calls them her "training partners" because they run with her on triathlon training runs or can be seen running at a nearby doggy beach.
"They both have dog insurance," she says, who despite being a vet herself, says "even at cost price, treating illness and injuries can be very expensive". She adds that "if every animal could have pet insurance it would be great. It would allow vets to do better diagnostics, better therapy, and provide more treatment options and follow-up care."
Vets Beyond Borders – over to you
What are your thoughts on the amazing deeds done by Vets Beyond Borders? Have you ever volunteered with an animal welfare organisation? Share your story in the comments.