Almost every time we walk past a huge Great Dane or Irish Wolfhound, the same thought goes through our heads: "that HAS to be the biggest dog in the world!"
Of course, it's unlikely you've actually walked past a dog that should be in the book of Guinness World Records. Some dogs are considered to have 'gigantic proportions." But when it comes to determining who's actually the biggest dog in the world is, there are two answers.
That's because you can measure size in either height or weight. And dogs seem to be either really heavy or really tall, but generally not really heavy AND really tall. Which is probably a good thing – can you imagine a Great Dane built like a rugby player?
Here are the top contenders for biggest dog in the world, by both height and weight.
Biggest dog in the world height-wise
You might have guessed it – the biggest dog in the world by height is a Great Dane. Zeus the Great Dane holds the Guinness World Record. In 2011, he was a whopping 112 cm. Hard to believe that Zeus was the runt of his litter! Freddy the Great Dane is the tallest living dog in the world at 103cm.
Here are some fast facts about Freddy and Zeus the Great Danes:
| | | |
| --- | --- | --- |
| | Zeus | Freddy |
| Height | 112 cm | 103.5 cm |
| Standing on hind legs | 223 cm | 226 cm |
| Lifespan | 5 years | 8.5 years |
| From | US | UK |
| Quirks | Drinks straight from the tap | Chewed up 26 sofas |
We're not sure if we're more surprised by a dog being over 2.2m tall on their hind legs (for reference, that's taller than most standard door frames!) or the fact that one dog ate 26 sofas. He might hold the record for the most expensive dog in history at this rate too.
If you have a chewer on your hands, knowing that they aren't going to stop at just one piece of furniture might be enough to motivate you into pet proofing your home (and knowing how to pet proof your car)! And while you wait for them to grow out of the baby stage, here's our puppy teething survival guide.
Can't quite picture what a 112cm dog looks like? Luckily, there are videos of Zeus so you don't need to use your imagination:
Biggest dog in the world by weight
Some dogs are naturally heavier than others, obviously. But because of a rise in obesity, diabetes in dogs, and other weight-related issues, there is no longer a title awarded for the heaviest dog in the world by Guinness World Records.
When there was one, the Saint Bernard and Old English Mastiff were jointly recognised for the title. These guys can weigh over 90 kilograms. 😮
If you own one of these giant breeds, you'll need to make sure your budget covers 'big dog stuff'. Big dog beds, toys and food tend to come with bigger price tags than small ones. After all, you're basically feeding and bedding a small pony!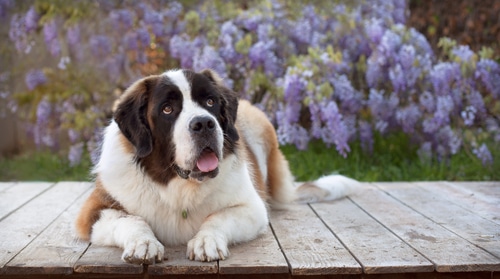 Things to consider about big dog breeds
If you're thinking of getting one of the biggest dogs in the world – even if not THE biggest – make sure you understand their specific needs. They need the correct nutrition to support their large frame as they grow, for a start. Your vet can advise you on a good diet.
There are also a few health conditions you may want to research. Hip dysplasia in dogs is more common in bigger breeds, as is arthritis in dogs and cruciate ligament problems. And, they do tend to have a shorter lifespan overall than small dog breeds.
All those cute puppy habits need to be kept in check too, much more so than with a smaller dog. If your giant Great Dane excitedly jumps up at someone or your Saint Bernard tugs hard on the lead while you're walking them, there could be injuries aplenty. So, puppy training is a non-negotiable with giant breeds.
Our Deluxe dog insurance plan also provides dental cover along with the accident, illness and other coverage, so your giant pup is well and truly cared for.
Want to switch to PD Insurance? If your current insurer charges you a cancellation fee we'll pay for it up to $150*! Take 2 minutes to check out our three simple, affordable plans now.
*at the time of writing