They say you are what you eat. In this case, by giving healthy pet food to your cat or dog you could be helping them live healthier, longer lives. WSAVA Global Nutritional Assessment Guidelines are the fifth vital sign your vet can use to assess if your cat or dog is getting the pet nutrition it needs.
In this article we'll give you great tips on choosing individualised science-backed healthy pet food. We'll also unpack the fifth vital sign, including what it is and how vets use it to help you keep your pet healthy.
Keep scrolling to find out more…
What are WSAVA guidelines?
WSAVA is the World Small Animal Veterinary Association, made up of vet associations from across the planet. The organisation is dedicated to continuously improving, setting and guiding the minimum standards of health care that vets give our pets.
"Our goal is to advance the health and welfare of companion animals through raising standards of veterinary care around the world."

– a snapshot from the WSAVA Vision Statement
To do this, WSAVA provides Global Guidelines across a range of pet health issues. These range from hereditary disease and microchip identification to global nutrition guidelines. These guide vets on best practices for diagnosing and treating our beloved cats and dogs when they're in all sorts of pickles.
What is the fifth vital sign from WSAVA?
The fifth vital sign from WSAVA is a nutrition assessment developed as part of a routine veterinary pet health check. Vets traditionally use four vital signs as the primary indicators of pet's health:
temperature
heart rate
respiratory rate
blood pressure
Together, these four vital signs form the basis of a routine vet health check. In 2010 the fifth vital sign, pet nutrition, was introduced to this matrix. Because even though we know an apple a day keeps the doctor away, we don't always know what the equivalent is for our pets.
As a standard part of the routine health check, the fifth vital sign gives vets the tools to provide pet owners greater insights into pet nutrition. Even if we already about it, we don't always know the best approach for our beloved furkid.
Together with your vet, you need to work as a team in giving your pet nutrition that meets their individual health needs. At the same time, you'll very possibly save yourself thousands in treatment down the line.
Pet nutrition for prevention rather than cure
Healthy pet food can be tricky to identify with aisles and aisles of cat and dog food options. How can you tell whether to choose this brand or that? Should you be limiting options to eco-friendly dog food to reduce the carbon pawprint? What about dry cat food vs wet – which is best – and can kittens eat adult cat food?
With so many questions (and so many aisles and brands) having vet support on pet nutrition via the fifth vital sign is one of the cornerstones to healthy pets.
We already know that there's an almost endless list of hereditary (and other) conditions in dogs and cats. If there's even the slimmest chance we could mitigate these conditions through a targeted diet, shouldn't we try? At the very least, knowing the steps to take will help us to take them.
After all, we sometimes spend oodles on treatment and medication when pets are ill. Why not simply spend more on healthy pet food upfront and possibly less on diagnosis and treatment later on?
It's hard to ignore that if good healthy pet food can keep pets on top of their game, it may prevent all sorts of unwanted aches and pains over the short and long term.
Guidelines for choosing healthy pet food
Healthy pet food can be a tough cookie to crack. For example, even a well-intended raw food diet for puppies has been known to unintentionally lead to health issues like rickets. One of the tried and tested options for pet owners is to go with a pet food brand with a history of using a science-backed approach.
This entails developing innovative food options that cater to different life stages, breeds and health conditions. Such as pregnancy and lactation, for example. It also means following American Feed Control Officials (AAFCO) and European Pet Food Industry Federation (FEDIAF) guidelines.
The AAFCO and FEDIAF guidelines are great for deciding on the right pet food. By choosing one of these foods you're putting forward your best paw but you also need your vet's input. A medical health professional can ensure that what you're doing is right for your individual pet's needs.
WSAVA Nutritional Assessment Guidelines for routine pet health checks
WSAVA Global Nutritional Assessment Guidelines are developed using the science from the American Animal Hospital Association's (AAHA) Nutritional Assessment Guidelines.
These are your vet's guide to assessing pet health through a nutritional lens. The guidelines are structured across three main points:
Individual pet. Every pet is unique. To that end each pet should be assessed according to his or her age, lifestyle, history and health status. Does your pet have any specific allergies, illnesses or intolerance, for example?
Diet. The diet your dog or cat eats should be the most appropriate diet for them in particular. Just because you have two cats doesn't automatically mean they should eat the same food or be fed the same way. If one is a Burmese grandpa and the other a young Ragdoll each will have their own nutritional needs and eating styles. Your young cat might eat their food all in one go while grandpa might let his sit out for a while. Making sure to choose the most suitable food and methods of giving that food so it's fresh and uncontaminated is also part of the assessment.
Food control. Pet nutrition isn't just about the right food, but also the right amount. Vets can help you decide how often and when to feed pets. They can also help you understand how environmental factors like stimulation can help or harm your pet's eating habits.
The fifth vital sign is assessed in two stages.
Firstly, vets check all pets for health and risk factors. Secondly, any pet that has any number of nutrition related risk factors then gets an extended evaluation. Out of this vets can make dietary recommendations to suit your furbaby to the tee.
Healthy pet food should be tail-ored
Great food isn't just an expensive or good quality brand. More than that, it's about tailoring the food your pet eats to them. If your kitten is a Siamese cat for example, this is a breed that's more prone to allergies. That's something you can cater to by choosing foods that are designed to reduce or prevent allergies.
If you have a Saint Bernard dog or Maine Coon cat then you're a proud owner of a big breed. Bigger breeds have lengthier growth phases, to produce bigger bones. This means they can be prone to hip dysplasia and other health conditions. Feeding food that delivers the right pet nutrition at the right stages of growth will support them well.
Older pets and pets that are neutered need less food than puppies and kittens (watch those zoomies chew through the kibble!). While on the other hand, pregnant and lactating pets need more food to cater to their rapidly exhausted energy supplies. Catering to these phases helps your cat or dog live their best life.
With the correct healthy pet food in the correct quantities, you'll know you're doing right by them. The reason we mention quality and quantity is because obesity is one of the biggest concerns that pets face today.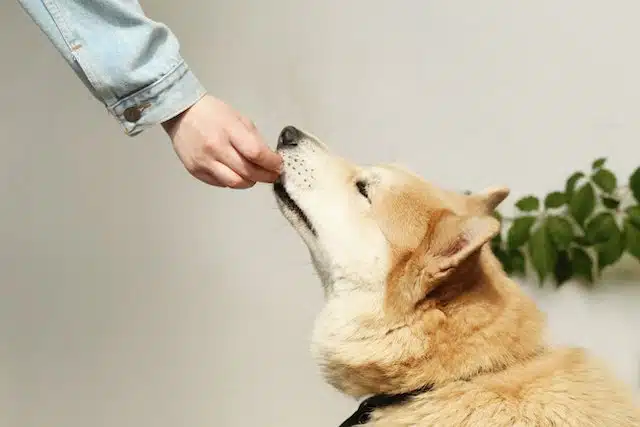 Quality and quantity of healthy pet food
It's easy to look online and see lots of lovely, large huggable dogs and cats and think that's how your pet should look. But don't be fooled. The benchmark for pet health isn't overfeeding, it's feeding proportionally and appropriately.
Here are some guides to help you avoid obesity in pets:
As explained above, food control is the third main point in the WSAVA Global Nutritional Assessment Guidelines. Your vet can check if there are any weight changes and help guide you to find the right balance of how much to feed.
As Dr Cath Watson explains in our vet vlog, there are several ways to accidentally overfeed:
Pet insurance for a soft landing
AAFCO and FEDIAF are very useful for pet owners. The fifth vital sign is very useful for vets. These structured guidelines help pet parents and professionals combine their forces to give pets the health they need and deserve through good food.
Another safeguard that's useful to have in place is a low cost pet plan offering quality protection. With PD Insurance you get cover for hereditary conditions after the waiting period passes. Our award-winning pet cover helps pay for X-rays, surgery, prescription medicine and more.
Don't wait until it's too late. Get your pet's plan started today. If you buy online PD Insurance offers you one or more months of free pet insurance. Simply click below to get a quote.