Got your learner's permit? Congratulations! You have an interesting driving journey head. As Dr Seuss said, "oh, the places you'll go!" Being the responsible driver that you are, you're probably wondering whether there's car insurance for learners permit holders and how to save on insurance for young drivers (or inexperienced ones).
After all, one of the best ways to boost your confidence and give you peace of mind is knowing that you'll have financial cover in the case of an accident. Below we look at the ins and outs of car insurance for learner drivers.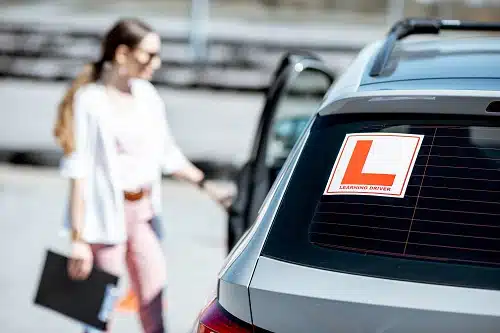 Can I buy car insurance with a learner's permit?
So, is car insurance for learners permit holders possible? The answer is yes. You can get car insurance with a learner's permit in Australia
But you need to know one important fact: Your premium will be higher than if you had a full driver's license.
Statistically, newly licensed drivers and teenagers between the ages of 16 and 18 are more likely than any other age group to engage in reckless driving behaviour. This means you're a higher risk group and your premium will be higher each month. (Read: Car Insurance For Young Drivers: Why Is It More Expensive?)
Most learner permit holders, especially teenagers, choose to go on their parent's policy as it's cheaper.
By the way, ever wondered who the worst people are behind the wheel? Read our article: Which Australian State Has the Worst Drivers? We've got the stats …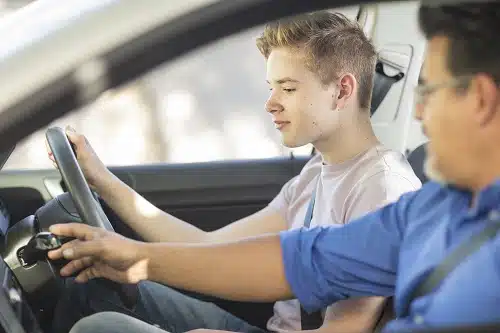 Is it better to go on my parent's/guardian's insurance?
If you're weighing up your options, here are pros and cons to being put on your parent's or guardian's insurance policy instead of your own:
Pros
It can be cheaper than getting your own policy
You'll be covered by your parents' or guardian's policy, even if you're driving their car
You won't have to worry about getting a separate policy if you move out of your parents' or guardian's home
Cons
Your parents or guardian will be responsible for any claims that are made against you
Their rates may go up if you have an accident
You may not have as much control over your coverage as you would if you had your own policy
Ultimately, the decision of whether or not to be put on your parent's or guardian's insurance is a personal one for you all. If you're a young driver with little experience, it may be a good idea to be put on their insurance. This will help you to build up your driving history. You'll be able to get a better rate on your own policy in the future.
Always remember, whether you're insuring your car as a learner driver or your parents intend on adding you to their car insurance policy, either route is better than no insurance at all. Our article Driving Without Insurance – What Happens in an Accident? lays out the hazards of driving with no coverage.
Oh and P.S., once you're ready to take your driver's, check out How to Pass an Australian Driving Test: Best Practical Tips.
How can I reduce the cost of learners permit car insurance?
Whether you've chosen to get your own policy or intend to be added to someone else's, there are ways you as a learner driver can bring those monthly premiums down. Such as:
Choosing a low-risk car
The fastest car in the world and these five luxury cars you wish you owned sure are spectacular. They also come with spectacularly high insurance premiums. When it comes to lowering your insurance for young drivers, a low risk car is the better option.
This can include lower-priced cars with good safety features like anti-lock brakes, airbags, stability control, and collision avoidance systems, cars with good crash test ratings and car models that are less likely to be targeted by thieves. Look for a cost-effective, well-known brand with a reputation for safety. 
For some awesome safe car options, check out these articles: The Latest and Greatest Safest Electric Cars and 5 Fab New ANCAP Safety Ratings for 2023.
Tweaking your insurance policy specs
Just like anyone taking out insurance, there are levers you can pull and push to tweak your pricing.
For example, choosing a higher excess with lower your premium and choosing market value over agreed value may give you the price drop you need. Having another insurance policy with the same insurance provider could score you (or your parents) a discount, as could paying your premium in full annually rather than monthly.
Ask your preferred insurance providers what buttons you can push and then decide which will work for you.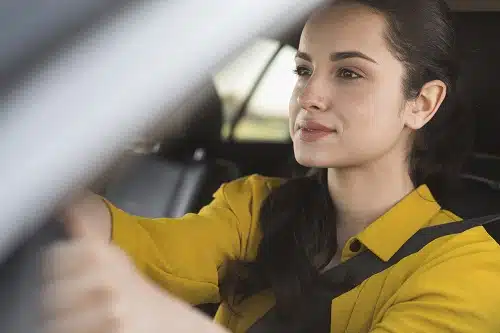 Taking a defensive driving course
Defensive driving courses are designed to teach drivers advanced techniques and strategies. This is to improve their driving skills and lower the risk of accidents. The eligibility requirements may vary depending on the specific course and the jurisdiction you're in. Nevertheless, many defensive driving courses are open to learners or novice drivers.
Taking a defensive driving course won't bring your insurance premium down but it will reduce your chance of a crash, which has a positive effect on potential future car insurance premiums. So too will avoiding distracted driving.
The more claims you've had, the higher your premium. If you build up a history of no claims over the years you'll end up being eligible for a no claim bonus.
Car insurance for learners permit holders worth considering
Now you know a little more about car insurance for learners permit holders. Car insurance gives your peace of mind on the road and the confidence to drive with ease. Whether you need insurance for young drivers or not.
PD Insurance offers learners value-rich comprehensive car insurance, third party property insurance and third party fire and theft car insurance to protect your pocket. Why not try us out?