Finding an ethical dog breeder can be a minefield. That's not because they're scarce – on the contrary, Australia has no shortage of professional, ethical, and caring breeders.
The real problem lies with the less scrupulous breeders. Unfortunately, the increase in these "backyard breeders" and their increasingly smart marketing tactics means it's getting harder to tell who's the real deal.
If you're surprised to hear puppy scams and puppy mills exist in Australia, it's time to learn how to separate the good from bad when it comes to choosing a breeder. After all, any prospective puppy parent wants to get their puppy from an ethical dog breeder.
Not only will you support good, morally positive business practice, but you're also less likely to end up with a puppy who suffers from a host of health issues.
How to find an ethical dog breeder
Puppy prices have soared during the pandemic, along with the prevalence of puppy scammers. Prices have become so high, in fact, that some sellers are asking as much as $10,000 for a puppy.
This demand for puppies and the astonishingly high prices has, of course, meant that the industry has been taken advantage of by scammers. Puppy theft syndicates and unethical breeders spot the demand for a canine bestie, and will do anything to get that cash in their hands.
This can mean stealing a puppy, scamming you out of your hard-earned money and leaving you high and dry with no dog, or setting up unregistered and unethical breeding mills.
But the power is in our hands. Responsible pet parents (and future pet parents) can help eliminate this problem. You just have to be careful.
The best way to stop this is by learning how to identify ethical breeders and avoid scams and mills. And then sharing this newfound knowledge with other people.
So, some things to keep in mind when you're looking to buy a puppy from a dog breeder…
1. Don't buy from online dog breeders
Online shopping has undoubtedly made things easier. Groceries, clothes, medicine, and even electronics are all things you can easily buy online.
One thing you definitely shouldn't buy online is a puppy. While it's quite easy to do nowadays, puppies aren't a "product" you should purchase sight unseen. A dog is a long term companion, so don't rush the process.
The only way to know if a puppy is right for you (and that you're buying from someone reputable) is to visit in person. Visit the puppy a few times, ideally at different times of day. This gives you the best chance of seeing through a scam and allows you to check the conditions the dogs and parents live in.
Classifieds sites and social media ads rely on the buyers to exercise caution and discretion when buying. They don't usually have any checks in place to make sure sellers are legitimate. So while it might be worth taking a gamble on a secondhand table, it's not worth it for a puppy.
Also know that ethical dog breeders are selective about homes, how many litters they breed, and how they raise their pups. That's why there's often waiting lists.
So, avoid the mail order puppy.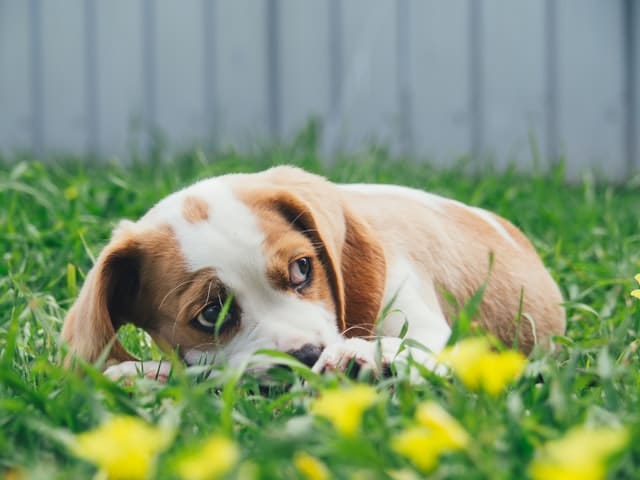 2. Find a registered dog breeder and get papers
Your first step should always be to choose a dog breeder who's registered with the Australian National Kennel Council. Remember though, that some breeds aren't recognised by ANKC. Like Labradoodles for instance. In these cases, there will normally be a breed association who have a list of recommended breeders.
You can also ask other trusted sources within your network. Enquire about good breeders with your vet, local puppy schools, and with local dog clubs.
If you're buying a pedigreed dog, the dog papers should come at no additional cost. They're proof of your dog's parentage.
Read how to tell if a dog is purebred so you know what to look for.
3. Ask questions (and expect them in return)
You should always ask about the puppy, the pregnancy, the parents' temperaments and so on. This helps you "get a feel" for the breeder, make sure they know what they're talking about, and check they're invested in their breeding program.
A good dog breeder will have plenty of questions for you too. They want their puppies to go to the best homes and will check whether you're a suitable pet parent.
4. Ask for health reports
Ethical dog breeders will have vets do regular checks on their dogs, so you're well within your rights to ask for the latest vet report.
Remember, pedigreed dogs are sometimes prone to breed-specific health problems or ailments. Read our articles on the pros and cons of purebred dogs for more about that.
And if you've got your heart set on a specific breed, do some research beforehand. That way you can find out if the required health testing and checks have been conducted, which could include any or all of the below:
Eye and vision tests
Hearing tests
Hip scoring
Elbow grading
Thyroid function tests
Heart testing
You can also ask the breeder about previous litters and their health problems, if any, as well as the health of the parents.
5. Meet the parents
Treat it like any other relationship – you've got to meet the family before you commit!
In all seriousness, we're not being paranoid. Puppy theft is on the rise in Australia. Meeting your puppy's parents is reassurance that the pup isn't stolen.
Plus it gives you a chance to see whether your dog's parents are healthy, happy, and well-adjusted. Puppy mills may keep breeding dogs chained/in cages, only releasing them to put on a show for potential buyers. Take note of whether the parent dogs show signs of discomfort, distrust or fear.
And assuming everything is above board, meeting the parents also means you get an idea of what your dog might be like in future. You'll have a better indication of their size, temperament, and looks if you get to meet their parents.
6. Consider a shelter instead of a dog breeder
If you're not too fussed on breed, your perfect match could be waiting in a local shelter. And by bringing home an adopted dog you know you're giving a needy pup a home.
Even if you're set on a purebred dog, you can sometimes find them at shelters through breed-specific rescue organisations. Sometimes, owners fall on hard times or end up surrendering dogs for other reasons.
Pet insurance for dogs
If you're bringing home a dog, whether through a shelter or dog breeder, keep in mind our online dog insurance comes in three affordable options.
And if you have more than one pet, you're eligible for our multiple pet insurance discount.