A holiday road trip is very likely to be the top travel plan in Australia this summer. At the moment, we can only fly intrastate and interstate – and even then there are some restrictions and many of us are too COVID-cautious to attempt it.
Let alone flying internationally… you need an exemption from the Department of Home Affairs and going for a holiday simple isn't a good enough reason.
So, car travel here we come! But before you pack your boot with all your summer holiday essentials, a word of caution. Be aware that holidaying is different in today's new COVID reality – read our road trip planning post pandemic article before you make any plans. And remember you're travelling in hot weather so check our tips on driving in bushfires season.
Then, whether you choose to travel inter or intra-state, here are 5 holiday road trip hacks everyone should know…
1. Holiday road trip – plan your schedule
Top tip # 1 is schedule, schedule, schedule! This can't be overdone. Road trips in movies may have a spontaneous shoot-the-breeze-type-of-feel, but we do not advise this in actual life. Let's stay with the times and plan (well in advance) routes, stop-offs, and outings.
Familiarise yourself with where the towns, petrol stations, toilet stops and shops along the way are, what the weather will be like while you're driving though. Then plot out the best stops to suit everyone you're travelling with. Knowing where you're headed and what to expect will make for a much happier and relaxed time for everyone.
Check your demerit points situation beforehand too.
2. Make reservations
Make reservations EVERYWHERE you intend to go, whether you're embarking on regional road trips, taking a roadtrip to bushfire affected areas or heading somewhere different. This is not just limited to accommodation. If you plan to visit restaurants, museums, nature reserves or play mini golf, make a booking. This could save you from being turned away due to an establishment reaching maximum capacity during social distancing. If you're using your $100 Dine & Discover vouchers in NSW, make sure you download the app for easy check in.
3. Download and print out maps
Download and print your maps. We've come to rely on GPS, but if you drive into a stretch where there is no signal, you won't have GPS! Download your maps to your phone but print out a copy too. If your phone dies and for some reason you can't charge it, the good old classic fold out map could save you.
Print out an extra copy of the map for kids to navigate too – they might even want to mark off towns as they pass. They'll learn along the way and feel proud of knowing where they are. If you do have kids on board, also take some time to read our top five tips for surviving family road trips.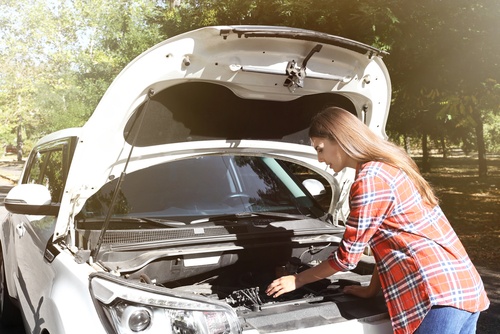 4. Do an essential car safety check
Pack extra batteries for your key finger operated button (or fob). Service and replace any bits and bobs which have wear and tear like tyres, wipers and lights. Knowing how to check tread with the 20-cent coin tyre check could save your life. When tyre tread wears down to 3mm, it's no longer safe – especially on wet road.
Speaking of which, remember we're experiencing La Nina, so read our hints for driving in wet road conditions.
Also, did you know driving without coolant in your radiator will cause your car to heat up, and once it's hot you can't add coolant? Keep it topped up. Even a short distance with a hot radiator can cause it to crack, costing you thousands – just one reason to make sure you have roadside assistance.
5. Pack extra essentials
Pack extra everything and use our car organising hacks while you're at it. Extra food, extra clothes, extra water, extra sanitiser, and extra masks. You never know if you'll get caught out spending longer somewhere due to a breakdown, illness or new travel restrictions (fingers crossed).
Plus, some stores and other venues require you to wear masks before you can enter the premises. So, pack extra masks because you may not find time to wash them along the way. Read more about how to choose wear and care for your face masks.
Summer love for holiday road trips
We've got a hunch that by the end of summer, some prestigious institute will release a study showing that more people travelled by car this holiday than any other in history. If you're keen to make this true, remember to show your car some extra love. Whilst out on the road, your car is your kingdom, so buckle up with car insurance.
PD offers comprehensive car insurance which covers for damage, theft, third-party liability, roadside assistance, windscreen replacement, car hire in case of an incident and much more.